Teruhiro Yanagihara creates terroir-inspired interiors for new restaurant Sower in Japan
Sower, the new Japanese restaurant on Lake Biwa, features a minimalist design and a material palette inspired by its surroundings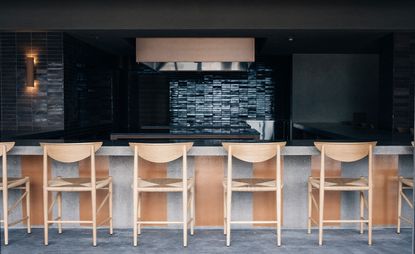 (Image credit: Max Houtzager)
Wallpaper* Newsletter
Receive our daily digest of inspiration, escapism and design stories from around the world direct to your inbox
Thank you for signing up to Wallpaper. You will receive a verification email shortly.
There was a problem. Please refresh the page and try again.
Straw, pearl shells, river stones, clay. A cornucopia of natural materials sourced from the landscape define the interiors of the new Sower restaurant in rural Japan, overlooking the serene waters of Lake Biwa in the mountainous Shiga Prefecture.
The Japanese restaurant was designed by Teruhiro Yanagihara Studio, which carefully applied the concept of 'terroir' to the interior, tempering the warm textures of natural materials with clean, minimalist lines and contemporary metal accents. The design smoothly complements the culinary innovations of US chef Coleman Griffin (formerly of Tokyo's Inua restaurant), who offers a creative, modern take on the region's rich seasonal produce, and its heritage as the birthplace of Japan's fermentation culture.
And so the rugged natural Shiga landscape is the main protagonist throughout, from the textures of the plaster walls, the surface of the stone counters and the deep water shades of the ceramic glazes, right down to the contents of the plates.
'I thought it was very important to design a restaurant that is connected to the landscape around it,' says Teruhiro Yanagihara, who has studios in Osaka and Arles, France, and serves as creative director and designer at 1616/Arita Japan. 'Similar to the food served at the restaurant, the space was created using soil, stones and plants from the surrounding Shiga region. We worked closely with craftsmen to create the best use of these materials.'
The restaurant, located in the grounds of Lake Biwa's L'Hotel du Lac, is accessed via large doors, made from assamela wood, with clean-lined copper handles and ceramic inserts. These lead to a bar area where walls and ceilings have been swathed in textured sakan plaster by artisan Saito Arato, who created an organic fusion of Shigaraki clay, straw and small stones from a local river, while a smooth floor of local soil and cement is awash with dark Bengala mud dye. The bar counter, likewise, contains an organic microcosm of Shiga's landscape, its smooth terrazzo-style surface showcasing a polished mix of river stones in white cement and natural ceramic clay.
Acclaimed Shiga-based contemporary ceramics studio Nota & Design crafted expanses of vertical tile panels with a light milky white glaze using powdered waste pearl shells from Lake Biwa, set into both the counter sides and plaster walls.
Meanwhile, bar stools showcase curved oak staves expertly handcrafted by Hiroshima-based Sasimonokagu Takahashi, brass footrests, and soft semicircular seats topped with a warm grey textile from Kvadrat's Yanagihara-designed Haku collection.
The angular space flows around a corner into the main restaurant area, where the earth-inspired palette, natural materials and clean-lined aesthetic continue. Here, another large terrazzo-style counter wraps around an open kitchen, next to a wall of Nota-designed tiles in a deep watery shade called Biwako Blue. Meanwhile, the minimalist tubular lines of unglazed Shigaraki clay, also by Nota, hang on walls, transformed into atmospheric light fixtures by the Nara-based New Light Pottery.
Guests also dine at circular Japanese ash tables with oxidised black legs, accompanied by oak chairs with woven cord seats by Danish brand &Tradition, reflecting the tangible connection Yanagihara sensed between the landscapes of Scandinavia and Lake Biwa.
Sharp hints of light-catching copper along parts of the walls temper the natural materials, while in an intimate private dining room, an organic expanse of camphor wood forms a tabletop centrepiece, sitting atop a burnt and polished base of the same wood.
Griffin prepares a bold and imaginative visual feast, with ingredients sourced from the surrounding land and waters. Launch highlights include shrimp and yam donuts; deer, pickled strawberries, and smoked and dried tomatoes; and burnt fig wood ice cream, all served on ceramics by both Nota and 2016/Arita Japan, alongside original knives crafted by Ryusen Hamono.
And just like the nature that surrounds it, the space will continue to evolve. 'It's like the architecture of a shrine or a tearoom,' says Yanagihara. 'As the earthen walls and the woodwork are exposed to wind and sunlight, their beauty will deepen with time.'
INFORMATION
Receive our daily digest of inspiration, escapism and design stories from around the world direct to your inbox