Perfection in porcelain: new brand 2016/ reignites Japanese ceramic craft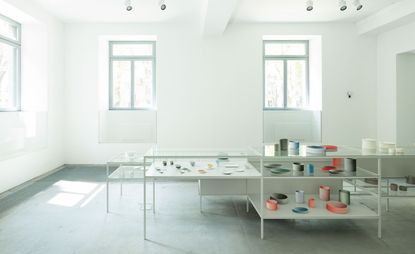 (Image credit: Takumi Ota)
Japan's deteriorating porcelain traditions are being given a new lease of life. This renaissance is the result of 2016/ – an ever-so-slightly confusingly named new brand – dragging the ceramic craftsmanship of the western town of Arita into the contemporary design world. Developed over the past two years, the project is a creative collaboration between Scholten & Baijings and Teruhiro Yanagihara. Over the period, the team appointed 16 international designers to work with ten different potteries, producing a plethora of exceptional ceramics that went on show at this year's Salone del Mobile.

The exhibition truly connected the past to the present and – via The Netherlands and Japan – the West to the East (the two countries maintain an on-going relationship that sprung from a history in trading). To this day, the northern European state has acted as a platform for age-old Japanese craft – something we noted at Mono Japan earlier this year.

Thus, it came as no surprise that 2016/ was such a special project, introducing the audience (and some of the designers) to pottery techniques that they might otherwise never have heard of. Seeing the modern styles of practitioners such as Swiss firm Big-Game, Stefan Diez and Pauline Deltour dip into the classic craft is a fascinating amalgam of creative cultures.

The collections remained relatively conventional in their fundamental forms, from plates to different sized vessels. But it was the unique skills and ceramic wizardry that was the highlight; the magnitude of textures and multihued effects that only come from disciplined and established craftsmanship. From Kueng Caputo's impressive spectrum of gradients, created using fukitsuke, a specialist airbrush painting technique from Arita's Kin'emon Toen pottery; to faded rich electric blues by Studio Wieki Somers that take the ancient metal stencil techniques of Koransha pottery to an abstract and hi-tech level.

Elsewhere, Spanish designer Tomás Alonso experimented with modern shapes at Sehyou & Co pottery to produce finely thin and chalky containers. Stefan Diez and Pauline Deltour also immersed themselves in the culture with their shapely models, that toy with the thickness of the pottery via different firing temperatures. Meanwhile creative directors Scholten & Baijings and Yanagihara presented both handpainted and geometric forms – the results of their ongoing research into Arita craft.

The new collections mark the 400th anniversary in Aritaware traditions, and the celebrations are just the beginning; next up is the opening of an 'Arita House' right by Amsterdam's Rijksmuseum, a mimic of the one in Japan. It's set to host many crafty events – a further link in the cultural and historical fusion.
INFORMATION
2016/ collections will be available from November 2016. For more information, visit the 2016/ website
Receive our daily digest of inspiration, escapism and design stories from around the world direct to your inbox