Cultural connection: Mono Japan celebrates Eastern craft in Amsterdam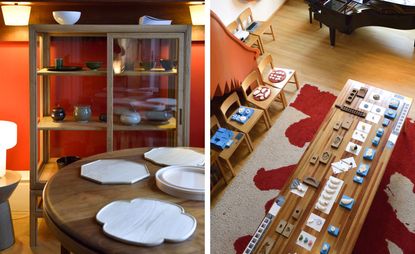 (Image credit: Masayuki Kurokawa)
Last week, we discovered how special the design marriage between The Netherlands and Japan truly is. Taking place at Amsterdam's eclectic Lloyd Hotel – a location that is as Dutch and design as you can get – was the inaugural Mono Japan fair.

'I have never seen so many Japanese people together in one place in Amsterdam before,' one attendee exclaimed. A world away from lifeless exhibition halls, the fair was totally unique; we found true Japanese craft peeking its way out of bathtubs, propped up on beds and settled on sinks.

The Lloyd was a backdrop with true personality. Owner Suzanne Oxenaar would prefer not to call it a design hotel, having refurbished many of the pieces that existed in its previous life as an immigrant hotel. These included the up-cycled white wooden chairs in their restaurant; vintage works that have been given leather seats, or had their spines removed. Despite this, the hotel still houses striking products by a plethora of designers – including Studio Job, Scholten & Baijings and Joep van Lieshout – dotted around the narrow halls and boldly diverse rooms.

The fair showed many practices never displayed outside of Kyoto, Nagasaki or Tokyo before. Thus, the excitement about their craft was understandably heightened, though slightly lost in translation. The disciplines on show spanned design and fashion, to food and music, with interactive events such as kite making, knife sharpening and tea tasting taking place over all six floors of the Lloyd.
'Interest in Japanese handicraft in the Netherlands is remarkable' explains Japanese-born, Amsterdam-based Emiko Chujo, the fair's organiser. 'It stands in sharp contrast to the design scene here where progress, innovation, rationality and modern techniques such as 3D printing set the tone.'

An array of sculptural pieces stood out. Takarajima Senkou, who works from a plant dying factory, used natural Indian indigo to dye hanging stones for her ornamental mobile. Mixed with plated copper shapes, the organic stones are hollow for candles to be placed inside, changing the stone's hues while it moves. Over in the fifth floor loft space, Ryo Okamoto's sculptures featured intriguing material uses. Inspired by the Japanese Edo period and Hawaiian lava, his fiery malachite form Believer was bathed in a celestial light.

Elsewhere, Tokyo-based Masayuki Kurokawa's refined cast iron tea pots stood strong next to shimmering gold plates inspired by Japanese painter Ogata Kōrin. Meanwhile, showing for the first time outside of Tokyo, sound system designers Taguchi Craftec Co presented 'Little Bell', speakers that create subtle sounds via a layered effect in the wood.

Brands with existing international attention also had a presence. Time & Style set their immaculate porcelain tableware and rustic furniture across two rooms; while the Netherlands-based Based on Roots showcased their playful florescent lunch boxes and charming coffee grinders by Takumi Shimamura.

'All of the participants of the fair will stay a full week in the hotel,' Oxenaar explains. 'That's how you really get to know each other and learn each other's culture.' It was certainly an enveloping experience; to be quite honest, we didn't want to leave.
INFORMATION
For more information, visit Mono Japan's website (opens in new tab)