On reflection: Gufram and Snarkitecture team up on a colossal mirror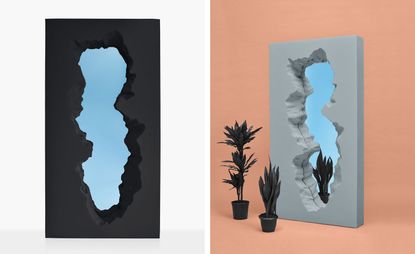 (Image credit: press)
There is always an element of surprise around Gufram's Salone del Mobile launches. Its wacky and outlandish products may not always functional, but the radical brand's experimental streak keep us on our toes. This year is no different as Gufram's inaugural collaboration with New York studio Snarkitecture will set tongues wagging.

Following an introduction through mutual friends a few years ago, Gufram owner and art director Charley Vezza and Snarkitecture's Daniel Arsham and Alex Mustonen discovered that they shared a similar aesthetic and approach to their brands. 'For me, Snarkitecture's style is representative of a line of research that bears witness to the radical nature of the third millennium', says Vezza.

The first mirror launched by Gufram, 'Broken Mirror' travels beyond realism, toying with form and function in a colossal Flintstones-style stone silhouette. A limited edition of 77 pieces, the design is a fine example of the avant-garde manufacturing techniques of the Italian brand too: the Guflac paint that covers the polyurethane frame of the mirror lends it a tough concrete look.

Mustonen explains, 'We were really interested in the interplay between the technical precision of the glass mirror and the unexpected softness of Gufram's signature foam material.' This trait draws parallels to Snarkitecture's style too. 'Much of [our] work is interested in this balance between precision and looseness or hardness and softness,' Mustonen adds.

The mirror will be on view at Wallpaper's space at Mediateca Santa Teresa in an otherworldly 'Planet Gufram' experience. No doubt we are in for some more surprises.
INFORMATION
'Wallpaper* Holy Handmade!' is on view from 4 – 9 April. For more information, visit the Gufram website (opens in new tab) and Snarkitecture website (opens in new tab)