600 designers, 48 countries: the return of Salone Satellite
After a three-year hiatus, Salone Satellite is back, presenting emerging talent within Salone del Mobile 2022: we look at the highlights from the exhibition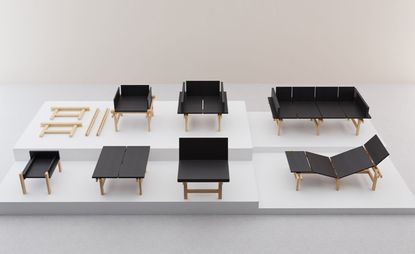 (Image credit: press)
Salone Satellite 2022, themed 'Designing for our Future Selves / Designing for Our Tomorrows', takes place in Rho Fiera halls 1-3, in the grand setting of Salone del Mobile 2022. At the heart of the 'design under 35 exhibition', 600 emerging creatives reflect on the world that will be, and the role that objects will play in future living – also, they see Salone Satellite as a key platform to gain acknowledgement by an international audience, as well as a bridge between creativity and business.
Salone Satellite 2022: rethinking design for the future
'I'm incredibly happy because all of my children did extremely well,' exclaims Marva Griffin Wilshire, the soul and the curator of the event, who also presented the Salone Satellite Award, now at its 11th edition. 'As one can see going around, creativity is everywhere, as well innovation. For example, the word sustainability is so much in fashion now, yet I have been seeing the issue of sustainability for so many years at the Satellite.' The jury, led by Paola Antonelli, selected three projects (plus special mentions) that 'stand out because of the message they embody, focusing not just on the formal incisiveness of their design but also their sustainable, communicative, interactive and ludic element, essential for the lives of adults and children now and, hopefully, also in the future'.
Salone Satellite Award: winners and other highlights
Salone del Mobile 2022 (opens in new tab)
Lani Adeoye won the first prize with 'RemX', a refined prototype walker made by a combination of natural materials used for many decades in Nigeria by Yoruba people, a tribe Adeoye is part of: 'It's a piece that is supposed to help us rethink how we design [for the] elderly or people who need assistance while walking,' she explains. 'It's inspired by [my] grandfather, who was basically embarrassed by medical products we [gave] to him, as they look very clinical. That is why materiality was important to me; I wanted to design something that doesn't look medical, an aesthetically fine object that is functional and sustainable, so that you're not forced to use it but you enjoy it being in your environment.'
The second prize was awarded to Studio Gilles Werbrouck (from the Belgium is Design collective), for the project 'Lamp'. The studio produced a limited series of lamps, made by pouring white plaster onto black VHS crochet tape, to create a crochet lampshade and a simplified plaster cylinder. Gilles Werbrouck explains: 'We decided to use Jesmonite because it's a material that gets hard very fast, allowing us to completely merge the video tape in the same part, so you can get the different texture.' Each of the lamps represents a different movie: 'That is the reason why some are taller than others. My favourite? "Jurassic Park III", which is also one of the tallest.'
Serbian designer Djurdja Garčević (from Young Balkan Designers) won the third prize with her project 'Meenghe': 'It's part of a family of urban furniture pieces such as stools, rubbish bins, and flowerpots, that are made from shredded car tyres in glue,' Garčević explains. 'Everybody is buying cars and so much waste is made, so this is a way to put those tyres back on the street and use a material that has little purpose. Also, for half of my life I saw people burning those tyres in New Belgrade; it smells catastrophically, and it's toxic. This furniture is only shredded tyres glued together.'
As for the special mentions? 'One of the most important things for me is colour; I chose yellow because I like products that are full of energy,' says Emanuele Ferraro, head of the Munich-based design studio Atelier Ferraro, while standing next to a bright chair, a special mention winner. 'I was trying to make an object that could stay with us in different parts of our lives, as it can be a children's chair, a lounge chair, a coffee table or even a chaise longue.' The chair is called '+1,5 Celsius', a reference to climate change, 'as I wanted to use materials that have already been produced, reutilising old furniture to make new one', adds the designer.
Another mention went to the 'Ease' chair designed by Rasmus Palmgren, which is described as an ode to effortlessness by the jury: 'The "Ease" chair contrives a balance between material, comfort and aesthetics. Strong yet light, comfortable and stackable. The structure is its key design feature, engendering a character of its own.' Everyday design seems to be at the heart of young people's reflections, along with the desire to react to the mandate of sustainability and the needs of the most vulnerable in society. As an example, 'No-More-Less', a project by Francesco Feltrin and Francisco Rojas Miranda, is a manufactured chair made with solid sustainable oak and wool or cotton, featuring a user-friendly seat, suitable to be adjusted to three different heights and three different angles.
Among the 600 young designers from 48 different nations, Cyprus, Congo, Cuba, Nigeria, and Qatar are taking part in Salone Satellite for the first time. Design Week Lagos, which promotes contemporary African design as an instrument for cultural and economic rebirth, is present with three pieces, among them fascinating Ethiopian headrests by young designers Abreham: 'We want to shift the narrative, we are not African designers, we are designers who happen to be from Africa,' they explain.
There is a general, extensive and widespread research on origins, rites, materials, and local crafts: US-based Vako Darjania of Vako Design uses his birthplace of Tbilisi, Georgia, as the inspiration for 'Rituals', a collection of candle holders influenced by the ritual of lighting a candle in a religious manner. Andreína Raventós Arquitectura, based in Spain, presents the 'Piaroa' collection of easy-to-assemble tables and chairs inspired by the eponymous Venezuelan indigenous tribe, an homage to the architect's ancestors. Farzin Adenwalla of Bombay Atelier created special aluminium tables, 'Kulfi', with terrazzo tops that replicate the pattern of the flavoured Indian dessert.
INFORMATION
Salone Satellite is on view at Salone del Mobile 2022 until 12 June, Rho Fiera halls 1-3
salonemilano.it (opens in new tab)