True colours: Roger Herman's vibrant vessels at Carpenters Workshop Gallery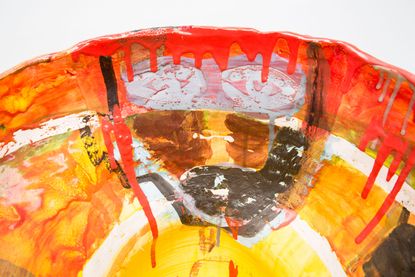 (Image credit: press)
If Britain is going potty for pottery this year, it's not hard to see why – some fantastic new contemporary talents are emerging, and the collectors market is also having a happy upswing. Adding fuel to the kiln has been the new and considerable Centre of Ceramic Art at the York Art Gallery, the best year yet for the British Ceramics Biennale in Stoke on Trent, and myriad artists – from Edmund de Waal to Ai Wei Wei to Barnaby Barford – all reinterpreting the medium variously and vicariously, too.

The latest show not to be missed? The bold and the beautiful ceramics of Los Angeles-based German artist, Roger Herman, currently on show at the Carpenters Workshop Gallery in London.

Those already familiar with Roger Herman's work will likely associate him more with the dominant themes of mortality and porn than pots. This exhibition, however, is dedicated to ceramic works that experiment with colour, a long-term and central aspect of his oevre to date too.

Herman himself has said that the subject of his work is always paint. Born and educated in Germany before moving to LA in 1977, he started his career as an artist working on large canvases with a distinctive and colourful signature. Having initially established a name for himself as the West Coast king of the 80s neo-expressionist movement, it was as he made the shift from painting to using clay that his fascination with colours (and how they would change during the glazing process) first took hold.

At the end of the last millennium, he began to take on a new artistic direction. Herman left his gallery and turned to the tuition of one of his graduate students at UCLA (where he became a professor in the late 1980s), and began mastering this new craft. Some 500 bowls were created and cast in the process of perfecting his style.

The British might be a little behind the West Coast and LA, where ceramics have long been on the rise and where Herman is a pioneer of sorts. But in this corner of Mayfair at least, this is an artform that is starting to show its true colours.
INFORMATION
For more information, visit the Carpenters Workshop Gallery website (opens in new tab)
ADDRESS
Carpenters Workshop Gallery
3 Albemarle Street
London W1S 4HE