Tuft love: R & Company and Amini bring fun to the floor with artistic rugs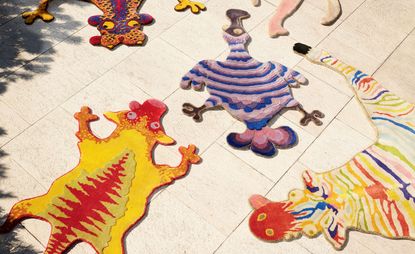 (Image credit: Bea De Giacomo)
When it comes to interiors and their contents, few items have the potential to be as excruciating an eyesore or as exquisite a centrepiece as a rug. It seems much more common, however, to encounter a monster than a masterpiece underfoot.

So, when one has the plush pleasure of meeting a really, really good carpet, it can be as exciting and satisfying as encountering great art. A case in point is 'Woven Forms', a collaboration between New York-based design gallery R & Company (which specializes in designers from the 20th and 21st centuries) and luxury carpet brand Amini (a Best Reissue winner in the 2017 Wallpaper* Design Awards). Together, they have realised more than 20 limited-edition rugs by ten of today's most notable artists and designers: Dana Barnes, Wendell Castle, Rogan Gregory, the Haas Brothers, Hun-Chung Lee, Lluís Lleó, Renate Müller, Katie Stout, David Wiseman and Thaddeus Wolfe. This wall-worthy rug collection will debut in May at the opulent Palazzo Benzon during the 57th Venice Biennale, as the creative class convenes along the Grand Canal to take in the best contemporary art from around the world.

'We're obviously not the first people to have artists and designers make carpets,' says Evan Snyderman, co-founder of R & Company with Zesty Meyers. 'But the challenge we posed to these makers was to consider carpet as a medium, to approach it as a textile, a tapestry or a fabric sculpture – a new way of expressing their existing language or style.' Snyderman and Meyers advised the designers to avoid the common approach of simply printing pre-existing paintings, drawings or photographs onto carpet. Aside from this caveat, however, there were no limitations. The brief was 'just to dream', says Meyers.

Aware that the resulting designs would be both extraordinarily diverse and complex to execute, the gallerists approached Amini. R & Company had first worked with the Milan-based brand in 2014 on rugs by the Haas Brothers and David Wiseman, which were presented during Design Miami. Snyderman and Meyers knew Amini would be up for the challenge. And a challenge it was.

Wendell Castle, the prolific American furniture maker and craft legend, had never made a rug in his 60-year career. He was determined to reimagine some of the (unseen) paintings he had made over the years. But to avoid a flat, predictable translation into textile, Castle wanted to maintain the nuances of painting: to replicate the changing texture of the paint, with one colour bleeding into another. The final results, which capture the delicate peaks and valleys formed by the separating hairs of the paintbrush, took more than a year to complete on the loom at one of Amini's workshops in India. 'A normal carpet has between four and 12 colours; a really excellent one has maybe 15,' says Ferid Amini, chief executive of Amini. Castle's design, however, features 85 colours.
Another enormously vibrant work that reveals the hyper-technical weaving techniques required is 'Manic Botanic' by Brooklyn-based designer Katie Stout – a profusion of tropical fruits and plants set against a silky black backdrop. 'This kind of project really allows us to showcase our very best artisans, because they are, of course, very involved in the process. They are artists in their own right, I can tell you,' says Amini.

Indeed, while 'Woven Forms' highlights the creativity of well-known artists and designers, Snyderman and Meyers agree it is also a celebration of the less visible craftsmen and women who diligently preserve the ancient art of carpet weaving – in this case, at Amini's workshops in India and Nepal. The project is a cross-cultural exchange of ideas and traditions, with spectacular – and sometimes humorous – results.

Inspired by traditional animal-hide rugs, the Haas Brothers have created comical offerings representing extinct and fantasy beasts. Cartoonish mammoths and cross-eyed dodos are splayed and floor-bound, like the evolutionary roadkill they are. 'There's a word that we don't see or talk about so much in the design or art world, and that's fun,' says Meyers. 'There needs to be more of it. While we tried to push all these designers to do something new, to expand their horizons, this project was also about offering an opportunity to create without limits, to just have fun.'

As originally featured in the June 2017 issue of Wallpaper* (W*219)
INFORMATION
'Woven Forms' will be on view at Palazzo Benzon, Venice, until 31 July. It will travel to Design Miami/Basel in June and will be shown later in the year at R & Company's space in downtown Manhattan. For more information, visit the R & Company website and the Amini website
Receive our daily digest of inspiration, escapism and design stories from around the world direct to your inbox