Modestly modern: Jasper Morrison and Punkt unveil new colours for 'MP 01'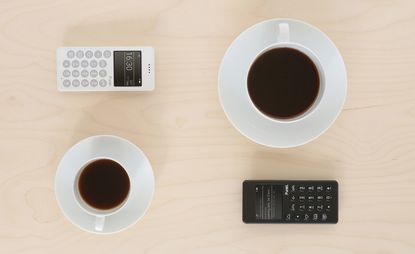 (Image credit: punkt.ch)
From the very beginning we knew Jasper Morrison's deliberately 'unsmart' smart phone for Punkt would be a thing of beauty, but little did we know that the modest mobile would shed its fuss-free black visage in favour of two new colour ways.

Minimalists fear not though – this isn't an any-colour-in-the-rainbow situation, no. More like a Maison Margiela colour scheme: pure and simple. So simple, in fact, they don't even have convoluted names. They are simply 'MP 01 White' and 'MP 01 Brown'.

'Both of the new colours are low-key but intriguing, which is in keeping with Punkt,' explains founder Petter Neby. 'The white option brings a certain aesthetic delicateness, which contrasts neatly with the phone's rugged build quality and straightforward design lines, while "MP 01 Brown" is the low-key head-turner. Brown has too long been absent from the colour palette of the world of consumer electronics. We want to take that back,' he explains. And take it back they will.

Due to be unveiled during London Design Festival, the two new colourways will be on display alongside the existing Punkt family of products when the Swiss manufacturer takes over Morrison's shop on Kingsland Road. Shop-goers will be able to pick up one of 250 limited-edition posters by award-winning illustrator Anna Kövecses, celebrated for her ability to bring a humorous, human touch to a technology-based topic, much like the modest mobile does for the lives of its owners.

Punkt's philosophy is as much about selling a mindset as it is a handset. Shortlisted for the Wallpaper* Design Awards 2016, the deliberately dumbed down mobile phone aimed to put technology back where it belongs: in our pockets, out of sight and out of mind. Taming technology through design, the 'MP 01' sees a definite nod to German product design of the 1960s and 70s, while making the most of modern robotics: a monochrome TFT screen and intuitive interface offers the bare essentials of calls, SMS, calendar and clock. Nothing more, nothing less.
INFORMATION
The Punkt takeover at Jasper Morrison's Shop will take place from 19–24 September. For more information, visit the Punkt website
The 'MP 01' mobile is also stocked at the Wallpaper*STORE (opens in new tab)
ADDRESS
The Jasper Morrison Shop
24b Kingsland Rd
London, E2 8DA