Porky Hefer's recycled sea monsters make us reflect on the impact of waste
'Plastocene – Marine Mutants from a Disposable World' by Porky Hefer was named Best Cautionary Tale in the Wallpaper* Design Awards 2022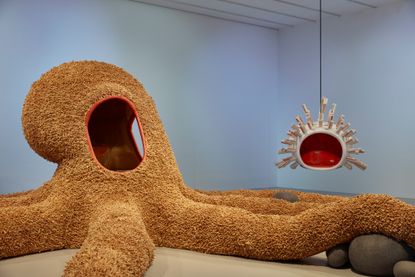 (Image credit: Tom Ross )
As if the plastic detritus of our hyper-consumerist culture currently littering the oceans wasn't scary enough, South African designer Porky Hefer has imagined five giant sea monsters, all made of recycled material, for a large-scale installation commissioned by Melbourne's National Gallery of Victoria for the NGV Triennial, and co-produced by Cape Town's Southern Guild gallery.
While his previous designs – whimsical hanging seats and an award-winning private house in Namibia – were often based on birds' nests, Hefer's mutant species explore the idea of a post-human world where plastic is so dominant, it has become an integral part of some animals' DNA. In his dystopian vision, influenced by National Geographic magazine's 'Planet or Plastic?' issue, species have begun to transmutate, adapting to the endless abundance of plastics and pollutants flooding into nature, in a new stage of the evolutionary process.
'Plastocene – Marine Mutants from a Disposable World' by Porky Hefer
Charming at first sight, Hefer's creatures are less so on closer inspection: a giant octopus (at 14m wide and 3.6m tall, Hefer's largest piece to date) is made from thousands of felt cigarette butts; a cute multicoloured fish turns out to be built out of ghost nets and marine rope; and a blowfish's spikes are revealed as 120 crocheted straws. Equally striking are Flat White, a reminder of the waste generated by takeaway food packaging, and Q-Tip, a part-earbud, part-hammerhead shark creature.
All the artworks were made in collaboration with a community of South African artisans, including over 80 crafters across six studios: Ronel Jordaan Textiles, Streetwires, Mielie, Wolf & Maiden Creative Studio, M Clothing and Leon at CXIXX, with African Karakul wool sponsored by Jonay Wool Carding. The entire project was co-produced by Southern Guild and will now form part of NGV's permanent collection.
It's a resounding success in terms of impactful art, but let's hope this vision of a toxic future never becomes a reality.
INFORMATION
animal-farm.co.za
southernguild.co.za
ngv.vic.gov.au
The Wallpaper* Design Awards 2022 feature in the February 2022 issue of Wallpaper*. Subscribe today!
Léa Teuscher is a Sub-Editor at Wallpaper*. A former travel writer and production editor, she joined the magazine over a decade ago, and has been sprucing up copy and attempting to write clever headlines ever since. Having spent her childhood hopping between continents and cultures, she's a fan of all things travel, art and architecture. She has written three Wallpaper* City Guides on Geneva, Strasbourg and Basel.
With contributions from