Pieces of privilege: the V&A questions the idea and essence of luxury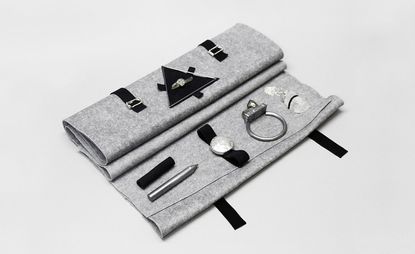 (Image credit: TBC)
Some people think luxury is the opposite of poverty. It is not. 'It is the opposite of vulgarity,' said Coco Chanel. According to a report by PSFK, luxury is neither of those, but rather 'knowing where your product comes from'. For the ever switched-on entrepreneur, luxury means time; for the terminally ill, it might mean health; for the 21st-century urbanite it could be as simple as an expansive view of nature. Much has been written about how, as the use of the word 'luxury' has become so overused by marketeers, the whole industry has lost its lustre, but is that really true? Or do we just value different things these days?

The V&A (opens in new tab)'s newly-opened 'What is Luxury?' exhibition attempts to answer its own question with a series of interesting examples of contemporary design and exceptional craftsmanship alongside conceptual projects that provoke new ideas of where we might be heading in years to come. From a laser-cut couture dress by Iris van Herpen to a dandelion chandelier by Studio Drift, by way of a DNA vending machine, the exhibition tells stories of what it means for a product to offer privilege.

'What is Luxury?' is the third exhibition in a trio organised by the V&A in collaboration with the Crafts Council (opens in new tab), following 'Out of the Ordinary' in 2007 and the fantastically popular 'The Power of Making' in 2011. With these successful precedents, as well as an influential group of commercial power players to satisfy, expectations for the show are high. The approach taken to the subject has cleverly avoided playing to the industry at all, instead taking a more philosophical view. 'Essentially, the question of luxury is a personal one,' says V&A curator of contemporary furniture and co-curator of 'What is Luxury?' Jana Scholze. 'As its title suggests, the exhibition questions the very idea of luxury today. It will challenge common interpretations of luxury, invite close examination of luxury production and extend ideas of what luxury can be.' Present and future ideas of luxury could be determined as much by issues such as privacy, resources and access as by aesthetics, intellect and craftsmanship.

More than 100 objects take visitors on a journey that addresses how luxury is made and understood in a physical, conceptual and cultural capacity.

A central feature of the show is 'Time Elapsed', a large spirograph designed by Philippe Malouin (opens in new tab) for glassware company Lobmeyr. The piece, which rotates to draw patterns made of sand, comments on the time-intensive process of making fine crystal, making for a hypnotic start to the exhibition.

'Hair Highway' by Studio Swine is a stunning exhibit at the back of the show. For the project, the duo completed a residency in China where they set human hair in resin to create highly decorative pieces of furniture and accessories. Reminiscent of luxury materials such as tortoiseshell, horn and exotic wood, instead these pieces are made of one of the few natural resources that increases proportionally with the world's population.

Also on display is Aram Mooradian's 'A Comprehensive Atlas of Gold Fictions', a piece which questions our relationship with gold - the archetypal luxury material. Everyday objects made from gold mined in Australia, including a headphone jack and a pendant, are engraved with personal local histories giving them new cultural values.

'What Is Luxury?' certainly manages to surprise and delight on several levels. Would Coco have approved? We'll never know. But one thing about this exhibition is noticeable: handbags - Chanel or otherwise - are in (luxuriously) short supply.
ADDRESS
The Victoria & Albert Museum
Cromwell Road
London
SW7 2RL
VIEW GOOGLE MAPS (opens in new tab)