One tree, ten designers: SCP presents The One Tree Project at London Design Festival
London Design Festival 2022: SCP enlisted ten British designers to create furniture and objects from a felled ash tree from founder Sheridan Coakley's Hampshire garden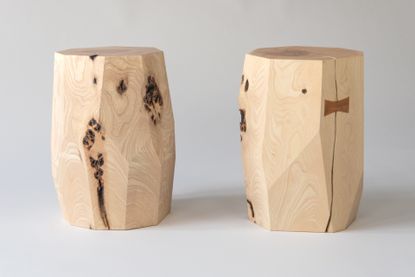 (Image credit: TBC)
Ten British furniture designers – including Faye Toogood and Sebastian Cox – have come together to create unique objects out of one ash tree that had to be felled due to disease. The One Tree project, presented at London Design Festival 2022, is organised by furniture retailer SCP, but with a personal touch: it was SCP founder Sheridan Coakley who had the ash tree in his garden in Hampshire, and wanted to turn the felling of the tree into an opportunity to champion sustainable wooden furniture, prevent carbon emissions and combat wasted resources.
Coakley's ash was one of thousands that have to be felled in the UK each year due to ash dieback, a disease which some suggest is becoming more common amid climate change. Often, felled wood ends up rotting in landfill or getting chopped up for firewood, due to their unsuitability for commercial milling. But both of these options result in carbon being released into the atmosphere. 'People forget that when [trees are] cut down and burnt, or rotted, it releases all of the carbon that was captured,' says Coakley. 'This project is an example of how that carbon has now been trapped inside these objects, which hopefully, people will buy and keep for 50 or 100 years.'
As well as Cox and Toogood, designer-makers for the project include Max Bainbridge, Poppy Booth, Matthew Hilton, Sarah Kay, Grant Wilkinson and Teresa Rivera of Wilkinson & Rivera, Moe Redish, and Coakley's son Oscar.
After the tree was cut down in April 2022, Coakley invited the designers to come and select which element or section of the tree they wanted to work with, and Cox – who owns a mobile sawmill – was able to cut the wood up accordingly. The wood was then air-dried, seasoned and dispatched to all of the makers' studios.
The resultant objects – spanning a range of forms – are a celebration both of wood craftsmanship in general and the unique tree in particular. 'What's amazing is how diverse the stuff is that came out of this tree,' says Coakley. Toogood and Wilkinson & Rivera both made seating that speaks of the tree's imperfections, irregularities and beauty. Kay's side tables appear as raw blocks of trunk with sharp bevelled edges.
Hilton's abstract sculpture reinterprets the tree itself, while Oscar Coakley has made a bold, rave-esque happy-face wall hanging. Booth has crafted a small corner cupboard designed as a monument to dead ash trees.
Bainbridge used his wood to create multiple objects, including a bench and four unique bowls, while Redish has used disease-rotted bits of the tree to cast striking and unusual glass vases. Cox – who has been felling and milling trees with his studio since 2010 – has used simple long slices of the trunk to create two minimal lighting pieces.
Of course, not every felled tree can be turned into one-off design pieces, as scaling such a practice would always be a challenge. But the One Tree project makes the case for harnessing wood that some may think of as imperfect and that would otherwise go to waste. 'We need consumers to be demanding solid wood and to be accepting of the fact that it's a natural material, not demanding homogenised "perfect" material only,' says Cox. 'There's no better material to make furniture with than wood,' adds Coakley. Two more trees have had to be felled in his garden, and he's stored the trunks ready to get them milled into usable timber. 'Maybe we'll do another kind of project,' he muses.
INFORMATION
The One Tree project will be exhibited at SCP's Curtain Road showroom throughout London Design Festival, 17–25 September 2022
scp.co.uk
Receive our daily digest of inspiration, escapism and design stories from around the world direct to your inbox