Oberlin's new book turns college memorabilia into a work of art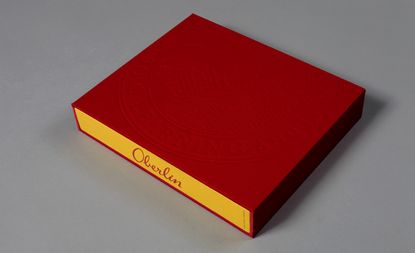 (Image credit: Oberlin College & Conservatory)
It's not often that university memorabilia catches our eye, but when Oberlin College & Conservatory's oversized offering arrived cloth-bound and encased in an embossed twill slipcase, we knew we were in for a treat. By enrolling publishers College Green, photographer Jonathan Glynn-Smith and writer Guy Evans to tell the story of Oberlin in a photographic essay, the US school has dramatically raised the grade.

Printed on fine art paper, with hand-inserted 'vellum' pages, the tale of this arts, science and music school is a surprisingly compelling one. In the 1830s, the college and surrounding colony began to rise amid a forgotten stretch of forest in America's Midwest. Buildings were carved out of swathes of beech and maple, and roads had to be built from scratch. 'The avowed aim of John Jay Shipherd and Philo Stewart - Oberlin's founding fathers - was to build this better world, a utopian community, as far away as possible from the madding metropolitan crowd,' says Evans.
In this 'benign bubble away from the rest of the world', radical history was made. The college was the first US school to grant bachelor degrees to women in a co-ed environment and was one of the first to admit African American students. And the college has always been known for nurturing free thinkers. 'Oberlin draws the creative, the overstimulated, the passionate, and puts them together for four years to marinate,' says Oberlin alumni Avital Isaacs in the book.

Whether or not its story resonates with its reader, the tome can't fail to entice with its striking mix of contemporary and archive imagery, and unusual presentation. The school and surrounds comprise a satisfying mix of architectural styles - 'I am for messy vitality over unity', said architect Robert Venturi, who designed the striking postmodern annex of the campus' Allen Lane Art Center - which is vividly captured on these pages.

In tribute to the community's eclectic architecture - on South Main Street, for example, the 1950s functionalism of the Oberlin Inn is juxtaposed with the surprisingly delicate concrete curves of the Hall Auditorium - the fabric cover of the book is printed with abstract angular windows, offering a view of the campus from the inside out.

There's also a smattering of pictures of alumni and some of their output, including eye-catching poster art. Meanwhile, 23 hand-inserted 'skins' printed on translucent paper bear evocative quotes. Wrote Carla White Freyvogel, from the class of 1979: 'I can still feel those days in my bones - the clear light of summer and the early fall, the slickness of damp leaves in November, the crazy cold of January and February'. Flick through the book's pages, and you begin to feel them too.