Norm core: Normann Copenhagen creates a Technicolor kingdom in its revamped flagship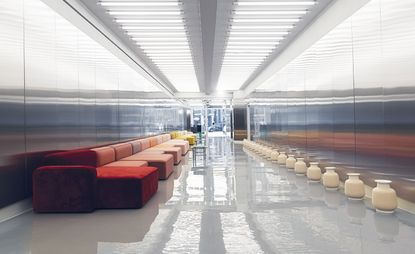 (Image credit: press)
Stepping into the Normann Copenhagen flagship has always been an experience to savour. Housed within an old Danish cinema, the contemporary Scandinavian brand has long enriched the original features of the location with its modern works. But the whopping 1,700 sq m space has been given another facelift this autumn, turning it into a veritable design playhouse and definitive realisation of the Normann world.

Walking into the futuristic entrance hall, visitors are greeted by a tunnel of steel reminiscent of a fashion set under luminous tube lights. We are quickly reminded that we are in a furniture house and not on the runway with the colossal, 20m-long 'Rope' modular sofa, realised in a spectrum of colour parked up along the 'Hallway' space.
But this is just the beginning of the theatrics, as realised by designer Hans Hornemann and brand manager Britt Bonnesen. 'We want to give visitors the feeling they're moving around in an art installation' says Hornemann. The visual fireworks continue across the flagship's 'Stage' and 'Ballroom' spaces, displaying Normann's minimalist modern collections. Often grouping by colour, or propping pieces up on terrazzo plinths, the brand has thought up visually striking ways of laying out its wares, as exemplified with the geometric 'Daily Fiction' stationery collection, launched in May, and immersed in a creamy blue set up. The spaces engage with the building's original archways, high ceilings and grand marble pillars. 'The old cinema salon is an imposing room, and it was important for us to preserve the feeling of space and its exalted atmosphere,' says Hornemann.

The highlight, for those who find it their taste, is the 'Gallery' space's striking pink emporium. Hidden down an illusionary steel-encased staircase, the lurid hues travel across walls and ceilings, and onto the seating and lamp collections. Here, Normann Copenhagen has concocted an Instagrammer's dream interior – albeit one that remains refined in its restrained set up. Along with the visuals, the brand has appointed Danish music producer and artist Nina Holmgren to create a soundtrack for the showroom, complementing a space that is whimsical and inspiring, classic and sophisticated.
INFORMATION
For more information, visit the Normann Copenhagen website (opens in new tab)
ADDRESS
Normann Copenhagen
Østerbrogade 70
2100 Copenhagen