Colouring outside the lines: Normann Copenhagen launches stationery line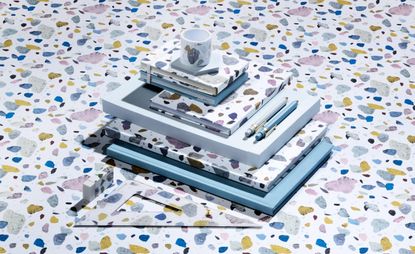 (Image credit: Normann Copenhagen)
From furniture design brand Normann Copenhagen comes a bold and distinctive new stationery range hoping to make a mark.
With the belief that demand for personal style is ever increasing, Normann Copenhagen launches a collection for those with a desire for individualism. Visually vibrant and adopting the title 'Daily Fiction', the range's remit is meant to be clear from the outset, with the Scandinavian firm hoping that it will encourage 'creativity, play and creating the daily story that suits your personality'.
Aiming to cater to a variety of different tastes, Daily Fiction consists of over 200 different designs over a broad range of stationery equipment, including notebooks, stickers, pencil sharpeners, scissors and writing implements. Describing the collection as 'a modern day candy store for grownups', Normann Copenhagen has embraced an almost ostentatious fashion aesthetic via the use of 18 bright colours and four abstract terrazzo prints.
Inspiration for the stationery came from the world of fashion, as Normann Copenhagen recruited Denmark-based designers Femmes Régionales as collaborators on the new designs. Speaking about the joint effort, Britt Bonnesen, brand manager at Normann Copenhagen, explains, 'We are enormously pleased about the collaboration with Femmes Régionales, [who] are conceptually strong designers and have their finger on the pulse of the latest trends.'
In future, Normann Copenhagen hopes to expand the collection with smaller pieces and different designers being added. For now, however, Daily Fiction is a bold, brash and beautiful stationery selection colouring outside the lines.
INFORMATION
For more information, visit Normann Copenhagen's website