Normann Copenhagen's abstract new range has an artful twist
The Danish design brand launches The Normann x Brask Art collection with ten international artists, curated by Jens Peter-Brask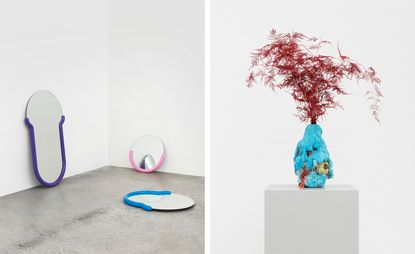 (Image credit: TBC)
Danish design brand Normann Copenhagen is swapping its famed clean functional lines for abstract prints, tongues and sexual desire for its latest collection. In collaboration with Copenhagen-based curator Jens-Peter Brask, the furniture purveyor explores the boundaries between art and design with The Normann x Brask Art collection, continuing its expansion into broader creative realms.

Normann Copenhagen is celebrating its 20th anniversary this year and founder Poul Madsen has taken this milestone as an opportunty to display his firm interest in the art world, and capitalise on the brand's experimental legacy. 'We have always flirted with the artistic, not least in the early years of the company where handicraft products were a big part of the collection, and the first bold furniture pieces of New Danish Modern were introduced.'
For Madsen, working with his friend Brask was natural selection, and he appointed ten artists from the US, Denmark and Russia who would embrace the idea of art flourishing within products, embedding their idiosyncratic creative language into the works.

Complex emotions are weaved into domestic objects for the range. Distress is found in blankets by New York-based Tony Matelli; Moscow-based artist Roma Manikhin creates erotically charged playing cards and candlesticks; joy is found in mirrors by Greg Bogin and the strength of female empowerment is felt in a shower curtain, drawn on by Mira Dancy. 'During one of my visits to her studio in New York, I noticed this shower curtain hanging in a corner. A standard shower curtain, which Mira had decorated with her expressive artwork and, without pretense, had managed to lift this everyday object to a new level,' Brask explains of Dancy's commission. 'I knew then that this was what Mira should be making for the Normann x Brask Art Collection.'
The collection of curiously formed pieces produce a sense of abstract familiarity, urging the viewer to dig deeper. 'Our requirements in relation to design are changing,' explains Madsen, 'in addition to function and aesthetics, the emotive aspects of design are becoming increasingly important.'

Like many of Normann Copenhagen's projects – its Tivoli sub-brand that launched last year, and experimental and eclectic showroom to name a few – colour is also rooted in the range. From Vincent Dermody's sculptural concrete collage vases that are built over empty beer bottles to Anton Munar's vibrantly painted and woven rug. Meanwhile Gudrun Hasle pares back to showcase vulnerability with her diagnoses of dyslexia in her carafe and glass. It is the most subtle work in the range yet the most intimate as she physically etches her personal issues on the delicate glass surface.
Aside from the art world, Normann Copenhagen has cracked into other creative disciplines with fashion concessions inside its Østerbro flagship and a collaboration with a Copenhagen film festival in the past too. 'Everything is allowed. I think, we more often look to other fields for inspiration and collaboration, and find that it can have a positive impact on what we do,' Madsen muses.
Playful, emotional and experimental, the Normann x Brask Art collection signifies an exciting direction for the Danish brand. Following its launch at a gallery space inside its Copenhagen showroom earlier this year, the collection will be available around May, and they look to expand with even more artists, tasking us once again to rethink how we perceive and experience functional design.
INFORMATION
For more information, visit the Normann Copenahgen website
Receive our daily digest of inspiration, escapism and design stories from around the world direct to your inbox