Nomad St. Moritz returns to the Alps, paving the way for the future of fair design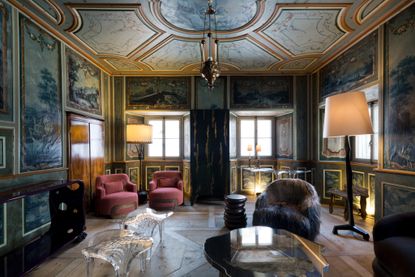 (Image credit: nomad-circle)
'These days, contemporary designers have almost the same status as contemporary artists,' says Nicolas Bellavance-Lecompte, gallerist and co-founder of the collectible design show Nomad, which is currently exhibiting works in the Swiss town of St. Moritz.

It's a statement that, to many, won't come as a surprise. In recent years we have witnessed the rise of the collectible design market – seeing it grow from featuring in niche galleries to some of the biggest shows in the world. It would be fair to credit Bellavance-Lecompte and co-founder, luxury brand consultant Giorgio Pace, with some of that success.

Since it popped-up in 2017 at Monaco's Villa La Vigie – an impressive neoclassical dwelling once home to fashion icon Karl Lagerfeld – Nomad has gone on to build a solid reputation in a relatively short amount of time.
The concept developed by Bellavance-Lecompte and Pace is rooted in providing an alternative to regular fair formats, with an unapologetic focus on setting and context. 'There were so many other fairs happening in the world, so we thought it right to create a new concept,' says Pace. 'We wanted to find the right locations and produce a smaller showcase that travels and is housed in private properties.'

The likes of Milan, London, Paris and New York were sidelined, and Nomad instead makes its home each year in off-piste locations, often only frequented by design aficionados during the holiday seasons. 'In terms of providing an experience for collecting art and design, the [usual] cities are not interesting anymore,' says Bellavance-Lecompte. 'People want to go back to smaller environments, where we can create a human dimension to fairs – not huge events with thousands of people rushing around. It's about creating something personal and experiential.'
Fast forward to present day, and Nomad is currently exhibiting 23 galleries at a 16th-century stately house in Samedan, named Chesa Planta. Its founders have learned a lot from their three previous shows, describing the fourth edition as 'the first year of maturity'.
On arrival, visitors encounter pieces by Oslo-based gallery, Format. A glass-blown chandelier hangs from the roof of the house, while a huge ceramic pot sits at the foot of a wide, wooden staircase. A pair of specially commissioned projects are also on the ground floor level, towards the back of the house. Everything about these two projects contrasts: one by Yoox is modern and current, while the other put together by curators Oscar Humphries and Rémi Gerbeau, experts in the work of Charlotte Perriand and Carlo Mollino respectively, explores the past. However, through careful curation, neither seems out of place.
The latter is undoubtedly one of the fair's highlights, the bringing together of these two legendary designers, through works they had created for Alpine regions is a canny approach by Humphries and Gerbeau that pays dividends in this unique setting, adding depth and a sense of romance to the space.

Elsewhere, all rooms, apart from those off limits (a library and another with a clothing archive dating back to the 16th-century), conceal a treasure trove of contemporary collectible pieces by international galleries. Perfectly placed along the length of Chesa Planta, objects range from an ornate screen by Piero Fornasetti, to a minimalist resin table by young designer Sabine Marcelis exhibited by Copenhagen gallery Etage Projects.
While some gallerists, namely Angela Werber, created an understated, domestic setting within their designated space, others opted to create a more immersive installation dedicated to an artist of their choice. For example, London-based Gallery Fumi enlisted artist Francesco Perini to completely transform their space – creating a marquetry pattern in the wooden floor to match his furniture on show.

According to Fumi founders, Valerio Capo and Sam Pratt, having the ability to do this provides a different experience than simply exhibiting at a standard fair. This opinion is echoed by Pace and Bellavance-Lecompte too: 'as a gallerist, I was looking for something that also allows you to have quality time with visitors in an intimate context, but also allows you to create a concept for a room that has a proper architectural rooting,' explains Bellavance-Lecompte.
As for the future of Nomad, the show is bypassing Monaco this year and heading for Venice in September, opening during the city's dedicated Glass Week.

'I haven't been everywhere, but it's on my list', reads a quote by Susan Sontag on the fair's programme – which features a graphic identity by Milan-based design consultancy, Studio Vedet. This mantra seems to certainly ring true with not just Pace and Bellavance-Lecomptes, but also the growing community of collectors, designers and artists willing to follow them wherever they go.
INFORMATION
Nomad St. Moritz is on view 7-11 February. For more information, visit the website
ADDRESS
Chesa Planta Mulins 2
7503 Samedan
Switzerland
Receive our daily digest of inspiration, escapism and design stories from around the world direct to your inbox