Netflix celebrates African talent in new documentary series
Made by Design is Netflix's new documentary series highlighting African creative talent, with the first season dedicated to Nigerian design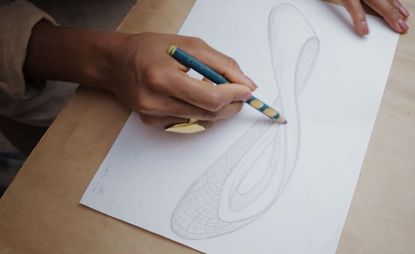 (Image credit: press)
Netflix presents Made by Design, a didactic new docu-series recently launched on the streaming channel. This series heralds a new guard who are reimagining African design, and the first season uses megacity Nigeria as a focal point. Giving viewers a deeper look into the complexities of Nigerian design, it showcases the highs, the lows and everything in between whilst exhibiting some of the country's most prominent talents.
Made by Design: African design on Netflix
The 13-part series was created and co-produced by Design Week Lagos founder Titi Ogufere, and co-produced by Emmy award-winning filmmaker Abiola Matesun. It depicts the concept of African design as multi-faceted, and can be considered a knowledge depository of Nigerian design.
Each episode acquaints viewers with a Nigerian designer from a diverse mix of talent, all of whom are leaders in their field. Each has forged their legacy, while embracing the rigorous realities of designing in Africa, where functionality is the bedrock.
For the uninitiated, each episode touches upon the various diversities in the realm of design: we are immersed into the life of 13 Nigerian designers, who are all opinion leaders in their own right, with pristine portfolios to match. The show's disquisition addresses the misconstrued narrative of Nigerian design, not because of lack of notoriety, but rather amplifying the voices of the designers and how they believe the narrative should be told.
'The story about African design has been told for so long I decided to create this project to take back our narrative and showcase the true meaning of African design,' says Ogufere, who founded Lagos Design Week in 2019 and is current president of the International Federation of Interior Architects/Designers.
African design: what the local talents say
Tosin Oshinowo
'I strongly believe that it is very important for the younger generation to be inspired by imitation, the fact that young Africans can see fellow Africans doing trailblazing work in the design industry is really the representative shift we need,' says architect Tosin Oshinowo, who specializes in residential architecture and product design. 'This docu-series is a validation that we are very much capable of telling our own stories as Africans in the design space. I am beyond proud to be part of this cinematographic milestone depicting our ever budding industry and i truly hope to see more beautiful projects like this come out of the continent.'
Lani Adeoye
'I think it's great to be able to tell our stories and share the diversities of our culture through a contemporary lens. It is important to dispel the myths of a singular language connected to African design,' says Lani Adeoye, a designer, artist and consultant who works in furniture, fashion, stage, installation, interior and experiential design. The founder and principal of Studio-Lani, she creates sculptural lighting and furniture pieces that express an organic rhythm and a sense of visual harmony.
Demi Samande
'We are finding our voice and stripping away the replicas we created of the West. Africa's growth and authenticity lie in designing with the agency to solve African problems whilst being globally inspiring. As we develop confidence with this resolve, innovation within our authenticity is inevitable. I want my work to be a catalyst in showing Africans what is possible. To demonstrate in every piece of furniture, we make sure that we have the talent in Africa to build Africa,' says Demi Samande, founder and creative head of Majeurs Chesterfield. This furniture company specializes in upholstery and in the restoration and production of fabric and leather furniture, and was originally founded in London, where Samande was raised. In 2016, Samande returned to Nigeria and opened her business in Lagos, focused on creating an empire of homemade furniture to serve all Africans.
Muni Shonibare
'We as African designers need to celebrate our rich cultural heritage and appreciate the global influence it has, and make a conscious and concerted effort to take charge and direct the narrative. Nobody can tell our stories better than us,' says veteran designer Muni Shonibare, founder of IO Furniture, a full service interior design manufacturing company in Nigeria.
Diseye Tantua
'For me, design is something extremely personal, it's my way of life; I would never want to jeopardize my authenticity for fame or fortune. It's time to debunk all stereotypes and tell our story the right way,' says Diseye Tantua, a Nigerian artist known for his iconic style of Afro Pop Art, combining graphic symbols, bold colours and expressive text. His drawings are based on traditional proverbs that are made popular by headboards and bumper stickers on buses or taxis. Tantua focuses on social groups in urban spaces often depicting forms of transit and movement. These scenes are overlaid with popular local expressions that speak to the energy and dynamism of the city's inhabitants.
INFORMATION
Made by Design is streaming on Netflix from 26 December 2021
netflix.com (opens in new tab)