Reflections & Opportunities: Design, Cities and The World Cup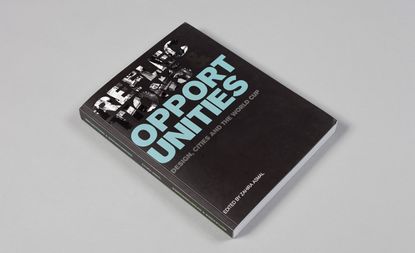 (Image credit: press)
In 2009 South Africa was a veritable construction site, a federation of frenzied states preparing for the 2010 FIFA World Cup. In the five years since winning the bid to host the event, massive tracts of undeveloped landscape had been reshaped beyond recognition.

South Africans were mesmerised by the scale of development in this country on the margins, both geographically and economically - not least the local design pundit Zahira Asmal, who was inspired to establish Designing_SouthAfrica. The research initiative analyses the impact a phenomenon like hosting the World Cup can have on an emerging economy.
'What started off as an idea for a book evolved into an organisation focused on understanding and sharing the World Cup and South African urban experiences,' explains Asmal.

The book took a while to come to fruition but it is finally here. 'Reflections & Opportunities', published this summer by Designing_SouthAfrica, delves into Asmal's findings while saluting the energy of a nation reinvigorated. Edited by Asmal, it opens with a foreword by Danny Jordaan, head of the 2012 World Cup Local Organising Committee, and features striking stills from filmmakers Andrew Bell and Guy Adam Ailion and reportage from Bruce Sutherland and Dave Southwood.

The title hints at the book's two parts: 'Reflections' and 'Opportunities'. The former features accounts by leading journalists at The Financial Times, The Guardian and even Wallpaper*, whose chapter (penned by regular contributor David Kaufman) analyses the economic, architectural and social outcome of World Cup 2010. The 'Opportunities' section is a compelling series of essays by key experts: Centre for Cities director Professor Edgar Pieterse; local architect Henning Rassmuss; Capetonian sport management lecturer Brendan Knott; and São Paulo-based academic Oliver Stuenkel.
Stuenkel's thoughts are particularly relevant as we approach 2014, the year Brazil hosts the World Cup. In anticipation of the event, Designing_SouthAfrica has launched a sister organisation, Designing_Brazil. And if you flip over your copy of 'Reflections & Opportunities', you'll see it's been published in Portuguese, too.