Abreham Brioschi's furniture is inspired by his native Ethiopia
Rising talent Abreham Brioschi draws on his native African roots to create futuristic forms inspired by tradition and symbolism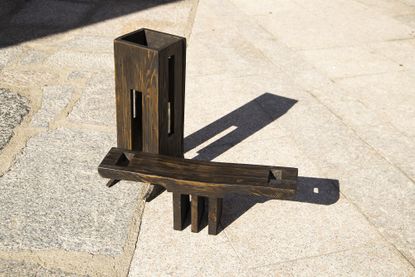 (Image credit: Courtesy Abreham Brioschi)
Abreham Brioschi has always had an affinity with nature, timber to be precise. 'I was born in Ethiopia and raised in Milan, but my parents had a small house by Lake Garda with a garden,' he explains. 'When we went there I was often outside creating arches and other small things out of wood, I was constantly making objects.'
Today the 25-year-old designer has a red sketchbook where he offloads the numerous ideas that come to his imagination, inspired by everyday shapes he encounters. Brioschi brings these designs to life, as he did when he was younger, with his own two hands. 'I like working with timber, it's an emotional material, and making the prototypes myself gives me the opportunity to experiment and see whether the ideas work, and are not simply beautiful,' he tells me.
Brioschi graduated from Milan's NABA fine art academy in 2022, and while he was studying he exhibited at Milan Design Week. With his first collection, he garnered interest from several galleries and designers, and also international buyers.
He sold his 'Wollaita' chair 'which I ended up making myself' to an Australian architect. 'The piece is really functional because you can raise and lower it, but it still looks like an art piece.' Inspired by the columns of the Bet Maryam church in Lalibela, Ethiopia, the seat is made up of a series of identical columns that form the skeleton, then the top section that forms the seat, and lastly a cylindrical mechanism that allows you to adjust it.
Italy has nurtured the graduate, but his admiration for natural materials and African cultures continues to influence his design ambitions. 'When it came to my end-of-year project, I immediately knew that I'd make something using wood; it's timeless and has longevity,' he explains. 'When I started researching I drew inspiration from the Mursi tribe in Ethiopia.'
Brioschi's 'Scarification' chair looks like a sculpture in wenge timber, with smaller pieces of hand-cut wood added to the surface to create a succession of raised bumps, like that of scarified skin. This is then covered in eco-leather for a smoother texture. The design is a testament to the African practice, which he also discovered is not completely foreign to Europeans. 'While I was researching I found suggestions that some ancient Romans used scarification on their cheeks as an attempt to stop their beards from growing.'
Brioschi tells me he's driven by the need to fuse innovation and technology with historic African cultures that are under-valued in design. 'I want to do this using contemporary or futuristic forms, because I believe that a lot of the innovations we have today in the world started in Africa.'
He mentions that he's a fan of British designer Samuel Ross, who has been very vocal about his support for young Black creatives; Brioschi too would like to 'be visible to aspiring designers' allowing his work 'to demonstrate that African design is significant'.