Sign of the times: Nendo pairs with Panerai on horology experience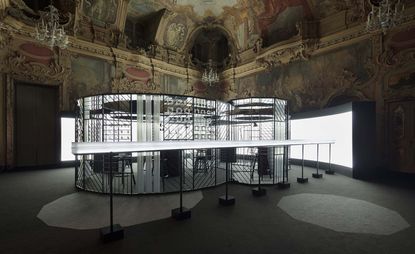 (Image credit: Takumi Ota)
A futuristic clock-making workshop set up in the opulent surrounds of Milan's Palazzo Visconti, made for an intriguing spectacle at last week's Salone del Mobile. With its brightly lit, open, black framework design sitting in sharp contrast to the palazzo's frescoed ceiling and glittering chandeliers, the temporary atelier is the result of a collaboration between luxury Italian watch brand Panerai and ubiquitous Japanese design studio Nendo.

'Time is not something that you get afraid of,' says Nendo founder Oki Sato of the exhibition's theme, 'but it is something that by feeling it, it becomes very rich and it becomes part of you. I wanted to create an experience where people can feel time and bring home their own time.'

Clock faces of varying thicknesses were cut on site from a length of extruded transparent plastic in front of waiting customers, who could order a clock and then watch as it was sliced and assembled in the workshop. While the minimal square-shaped face displays just four numbers and one-stroke numerals, the clock's thickness depends on the exact time of the customer's visit. 'For example,' explains Sato, 'if the time is 10:15 we add 10 and 15 to make a 25mm thickness, and you understand that you were here at 10:15 and you can take home your own time.'

After being cut, the clock proceeds through the different departments of the workshop, where it is polished, sand blasted and assembled by Panerai technicians dressed in white lab coats. The extruded plastic shell from which each clock is cut, is all the time becoming shorter and shorter over the duration of the exhibition. Once the shell is used up, the installation is complete. 'In other words, the empty-shell-like clock is an apparatus that enables time to be perceived like an hourglass,' explain the studio.

Even the workshop itself – an open framework of interlocking circular spaces – was designed to to resemble the mechanism of a clock. 'By walking through the space you feel time and you also feel the craftsmanship of the Panerai watches as well,' says Sato.

With 2017 marking 15 years since Sato debuted his studio at Milan's Salone Satellite, the topic of time seems an appropriate one. Since the 2002 launch, Nendo's rise has been stratospheric encompassing the completion of countless architecture and interior design projects, product designs and collaborations with the likes of Cos, Tod's, Kenzo and Cappellini to name just a few.
INFORMATION
For more information, visit the Nendo website (opens in new tab) and the Panerai website (opens in new tab)