Explore the rich archives of Montblanc
Montblanc's new book – Montblanc: Inspire Writing – takes readers on a journey into the archives of the German luxury house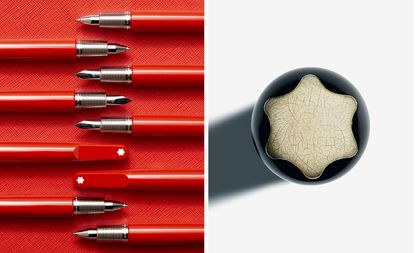 (Image credit: © Peter Schings/TLGG(L) & © Laziz Hamani(R))
When you are renowned as the designer and manufacturer of the world's most elegant and luxurious writing instruments, there is an obligation to make any associated project match and comply with the rarefied standards, arcane pleasures and epicurean brand values of your hero product.

Accordingly, while planning its new book, Montblanc: Inspire Writing, the luxury brand considered every aspect of the viewing and reading experience: it carefully selected the best publisher (Assouline); the most skilled bookbinder; the finest paper stock; the handsomest font choice and most lucid photographic reproduction. Even its weight, feel and kindred olfactory sensations. 'A book is not only about the content – the images and words – it's also about the interaction between you and the object,' explains Montblanc's creative director Zaim Kamal. 'Its weight, the way you hold it, the touch, feel and tactility of the paper in your fingers, the sound of the paper turning and spine cracking, the scent that comes off it. We had to take care of every detail.'
Looking delightful and smelling sweet, Montblanc: Inspire Writing tells the remarkable story of a pioneering maison that has strived, since its inception back in 1906, to inspire people to put ink to paper. To let their thoughts flow across a page, to leave their mark, pen in hand. Through the words of journalist and author Alexander Fury, as well as archive images, documents and striking new product visuals by photographer Laziz Hamani, the book reveals the multifaceted identity of Montblanc as the summit of luxury writing instruments for people who strive for excellence and dare to make their individual mark with flair and style. It also reminds us of the power of handwriting and the traces of humanity found in every letter inked on paper.
Increasingly valuable in the technology age, the action of handwriting, the book explains, is a personal art form that gives expression to individual thoughts with a unique aesthetic. Like a Stradivarius or a Steinway, Montblanc instruments are precisely geared, finely tuned artistic creations serving as tools for the creative endeavours of others. Paying homage to humanity's great writers, artists, explorers and achievers with its limited-edition High Artistry collections, Montblanc celebrates the power of the hand, and of humanity, to communicate more than just words through its exquisite writing instruments.
Here, we ask Montblanc creative director to tell us more about the project, which celebrates the joy of writing in all its forms.
Wallpaper*: Why the title Inspire Writing?
Zaim Kamal: Inspire writing is Montblanc's call to arms. It's what our products do. We inspire people to fulfill their potential. In my opinion, writing is the most significant way that people can leave their mark because it communicates something in a variety of expressions.
W*: The way we write is always changing. It's not just about a copperplate hand any more. Does the Montblanc ethos reflect this?
ZK: The way that people write and communicate with a pen is constantly evolving. Writing has always been direct and immediate – calligraphy came later. In the last year, we have all been staring at our screens during these endless Zoom calls. But at the same time we have been taking notes with a pen and paper to augment and record the conversations. In this way, writing has actually gone back to its roots. Not an art form but a way of communicating and documenting events.
W*: People who use fountain pens – Montblanc's writing instruments – talk about the sensory experience of using a pen. Can you explain it?
ZK: When you put a fountain pen to paper you create a flow: a flow of ink and ideas. It is an action that encourages you to slow down your way of writing. You adjust almost immediately, warming up to the feel, flow, noise, contact. There's an emotive tactility that allows you to connect with the experience. You don't just record the words; you record the emotion, sensuality and pleasure also.
W*: In 2021, we have instant access to computers and smartphones, to email and text. How is it that there is still a place for the pen and paper?
ZK: At Montblanc, we look at the way people work, play and travel, and perception is that while we use our phones and laptops a lot of the time, we also combine and adapt that behaviour with the use of a pen, employing a clever and effective hybrid of analogue and digital. For instance, when I am travelling, I will make a PDF of a hand-drawn sketch or note and WhatsApp it to my team. They will make amendments, send the file back to me and I will add more changes by hand. So, it's up to us to decide how we work. Some people will work exclusively digital during the week but go completely analogue at the weekends. Others are almost totally analogue all week.
W*: From Tom Wolfe to Neil Gaiman, it is incredible how many contemporary writers still use a pen to write. Why does the classic writing instrument appeal so much to the modern-day creative community?
ZK: This is true – when I chatted to director Spike Lee he told me that he writes every word of every single screenplay by hand, with a pen on a notebook. When you draw or write with a fountain pen you need to be precise and slow. You think, consider and self-edit. When the ink starts flowing the ideas come too. Writing pulls things out of you. It is an extension of your brain. The nib is the interface between the coding of your thoughts and the conveying of your thoughts.
W*: The pen is also genuinely universal – as it says in the introduction to the book, 'everyone can wield a pen to express their point of view and emotions, to assert an impact on the world. Writing enables people to leave traces of their lives, to tell their stories, to make a mark'.
ZK: A fountain pen is freedom. You always have something to write with. It is only reliant on its users. It might need filling up with ink from time to time but doesn't need to be plugged in or updated. You don't have to keep upgrading it. There is little or no maintenance required. It is universal, portable and uncomplicated but capable and powerful.
W*: The quality and luxury of Montblanc's writing instruments is evident as soon as you pick one up and use it. Is the design, technology and engineering of the Montblanc fountain pen always evolving and improving?
ZK: By design, the inside of a Montblanc writing instrument is so simple. But by function, it is so complex. Because writing is physical, balance, proportion, density, nib width are all carefully considered but tend to stay constant. What does evolve is materiality, tactility and detail – all the various storytelling elements that make using a pen such a pleasurable experience.
W*: The book talks about the power of handwriting and 'the traces of humanity found in every letter inked on paper.' As the world speeds up and grows ever smaller, do you think these ideals still have a place in our lives?
ZK: I think they are more important than ever. I once said that when you write on a keyboard you create a file but when you write on paper you create a memory. Writing on a computer or a phone has become an automation. We are now so bombarded with fingertip-sensitive keyboards it is good to switch off from them for a while and use our whole hands more instead. Writing by hand puts you back in touch with yourself.
INFORMATION
Montblanc: Inspire Writing, €175, published by Assouline. montblanc.com (opens in new tab)