Contributors
Meet five of the creative forces behind our April 2017 Global Interiors issue. Illustrator: Eoin Ryan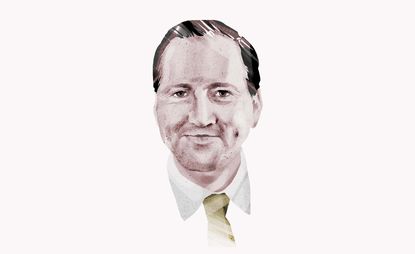 (Image credit: Nick Compton)
Richard Cook, editorial director

After 17 years of extraordinary and inspirational service – of dedication and diligence, keen intelligence and quaintly old-fashioned human kindness – our editorial director Richard Cook has departed his threadbare 'Aeron' desk chair and gone to Patagonia. Well, Pimlico at last sighting. We are left bereft and somewhat befuddled. Richard had been stoking the fires in the editorial engine room – as well as calming nerves, offering a judicious eye and unleashing whip-smart banter like a Cambridge-educated Walter Burns (see His Girl Friday, the greatest of all newspaper movies) – for far longer than, frankly, we deserved. Still, all things must pass. We have shakily gathered ourselves and regrouped. And, intent on keeping him occupied and active, promptly dispatched Richard to Brasilia, as near to Patagonia as we could manage. In this issue he talks to the young Brazilian architect Eduardo Brito about the understated jewel of an apartment he has created in a nondescript residential block. For Richard, the story is about far more than an elegantly restrained interior overhaul. It's about the legacy of Brazilian modernism in Brasilia and beyond, its intent, its ambition and its future. 'The haute bourgeoisie are trying to turn the classic Niemeyer apartment blocks, built as mass communal housing, into luxury gated communities with fenced-off gardens and soft cladding,' he says. 'And then there is the little coterie of designers and architects in the city, like Eduardo Brito and some of his friends, trying to shame them out of it. It is quite inspiring, really. And they aren't even that into Niemeyer. They are just agitating for beauty and honesty in design.' Much as Richard himself did, for all of those 17 years.
Anna Alek, photographer

For her debut fashion shoot for Wallpaper* (page 286), we dispatched Alek to the Richard Meier Model Museum in New Jersey. There, the Ukrainian-born, New York-based photographer found inspiration from Meier's trademark bent for openness, light and composition. 'We had to move the lighting for every shot as we moved around the museum trying to capture the perfect moment.' Up next is a short film, a group show in summer with some friends, and her first book of nude portraits.
Xavier Veilhan, artist

We're particularly pleased that the prolific Lyon-born, Paris-based Veilhan was able to share his homely recipe for crouton omelette with us. It's just the thing to whet the appetite for 'Studio Venezia', his ambitious show at this year's Venice Art Biennale, where he is representing France with an immersive installation of complex interlocking layers that merge visual arts and music. 'It's a powerful and otherworldly sensation that will bring both musicians and visitors closer together,' says Veilhan.
Martino Gamper, designer

London-based Italian designer Gamper's fascinating collaboration with photographer Brigitte Niedermair for fabric maker Dedar is documented by the pair here. They also teamed up to create our limited-edition subscriber cover; smartphones, the internet and master artists all played a part. Next up for Gamper is the staging of two solo shows: '100 Chairs in 100 Days' in New Zealand's Wellington City Gallery in April, and 'Cedar Room' at Glasgow's Pollok House in June.
Robin Friend, photographer

Friend was born in London, but grew up in Melbourne, which he says inspired his passion for the natural world. His car and architecture shoot for us in Germany, however, found him completely unprepared for the cold. 'I was frozen to the core. And as I was shooting on 5x4 film, I had to be careful about condensation and ensure the temperature of the film didn't vary too much.' Friend is currently finalising his first monograph Bastard Countryside.
Daven Wu is the Singapore Editor at Wallpaper*. A former corporate lawyer, he has been covering Singapore and the neighbouring South-East Asian region since 1999, writing extensively about architecture, design, and travel for both the magazine and website. He is also the City Editor for the Phaidon Wallpaper* City Guide to Singapore.
With contributions from