Bright lights: meet Apparatus founders Gabriel Hendifar and Jeremy Anderson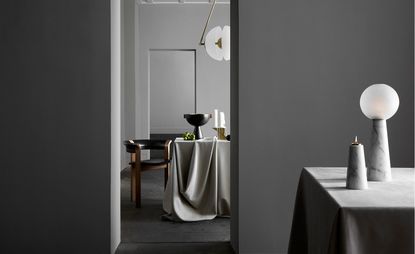 (Image credit: press)
When they met in Los Angeles, Gabriel Hendifar was working in fashion and Jeremy Anderson had a job in public relations. An opportunity for Anderson brought the couple to New York, and soon, people began admiring the lights they made for their apartment. They would soon turn their weekend project into Apparatus, a New York-based design studio, leaving their careers behind to launch the new venture. That was four years ago.

This year, Apparatus has seen a lot of new strides; the design studio went beyond lighting, launching their first furniture collection of geometric, wood tables at ICFF, followed by the release of a new collection called Neo Marble last month. Referencing ancient rituals, the Neo vessel consists of a brass bowl with a marble base, while the Neo lantern is made up of a glass sphere that sits atop of a conical marble base. 'To us, marble carries a sense of permanence and history that guides the conversation about how it should be used,' says Hendifar. 'It was important that the objects felt boiled down to their most essential elements - the Vessel is almost more of a discussion about the idea of vessels, and the lantern very simply illuminates with a candle. We hope the resulting pieces feel like artifacts from an unknown time and an unknown place.'

The couple hopes that their designs create a sense of desire in the viewer to touch, interact, or gaze at the objects. 'Ultimately, that comes down to creating an emotional reaction that we hope grabs both the sophisticated design collector, and more broadly to the person who sees something essentially beautiful about the balance of form and material,' says Hendifar.

Expect to see more from Apparatus in 2016; Hendifar and Anderson have been experimenting with LED technology for the first time. 'Our studio has been dedicated to the warm glow of incandescent light, which is why we are late to the game, or I should say we have been waiting for the right technology at the right moment and we are starting to see that now,' says Hendifar.
INFORMATION Website
By appointment only
ADDRESS
Apparatus
127 West 26th Street
#1201
New York, New York
VIEW GOOGLE MAPS (opens in new tab)