Matylda Krzykowski's all-female spectacle at Chamber spans sexiness to messiness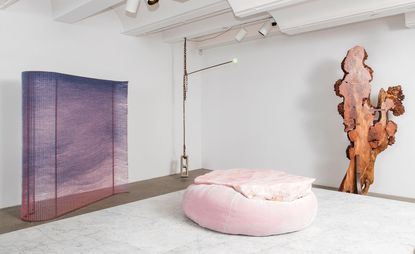 (Image credit: David Brandon Geeting)
There is an exhibition format that has developing rapidly in the last few years to have all-women shows, as political statements to thoughtful rewriting of historical narratives and creating opportunities for so many artists, designers, thinkers who because of their gender, haven't had the most institutional play.

Matylda Krzykowski is aware of this but as she says, 'I'm not playing into trends'. For her fourth instalment of 'Collection #3' at Chamber – whose programming follows a chaptered approach – the Poland-born, Basel-based multi-hyphenate designer and curator sought to make a show based around Pop-artist Richard Hamilton's domestic satire collage, Just what is it that makes today's homes so different, so appealing? from 1956, and its update in 1992.

As a show featuring all-women architects, artists and designers, Krzykowski designed the show as a 'physical commentary be part of the broader conversation'. She says, 'I had this little dream in 60 years, we look at this collage and think, "Oh, that's what people would own and desire".' Mistake not, however, Krzykowski is 'more interested in formulating topics', she explains. It's not so much political or identity-driven as it is 'a sociological report that we can reference in the future to the past, like we are documenting something,' she adds.

Immediately entering the bottle-necked Chelsea gallery is a direct conversation between Johanna Grawunder repurposed neon lights reflecting on Sabine Marcelis resin cast and burnished steel 'Equals' easy chair. It's clear Krzykowski is eager to feature designers-artists who highlight the multiplicity of womanly expression. Sexiness, femininity, nurturing are all in ample supply here; but so is hardness, endurance, pluckiness, messiness.
Slogan feminism isn't anywhere in sight. 'We are getting attention at the moment and we have to use it wisely. Not just celebrate each other, these dinners and exhibitions, but we want it long-term so how can we make it happen? That's what's next – how we change the perspective and the vocabulary,' Krzykowski says.

Proceeding into the gallery is Zohra Opoku's One of Me II, which the Ghanaian artist who won the Armory Show's 'Presents' prize this past March, almost acts as a living painting. Neighbouring to Opoku is Åsa Jungnelius' 'Implements' sculptural series, 1950s Domus-inspired lipstick cases that suggest makeup as armour. There is indeed something called the 'lipstick effect' wherein during recessions and economically troubled times lipstick sales go up—a way to uplift moods and brace the harshness. Krzykowski says, 'Juan [Mosqueda, Chamber's founder] said, "These are too literal, they're going to ruin the show." So I made a bet with him: If we sell them, Juan will wear lipstick for Design Miami.'

Located in the main room, Mira Nakashima's burled elm wood screen, which 'is not a typical piece of furniture'. Krzykowski explains: 'She's a wise woman and elegant woman.' Buro Belén's coffee table – where a raw slab of pink rose quartz sits atop avela memory foam cushion – is a playful counter balance between untouched nature and domestic comfort, a pair not often found together. Ania Jaworska's seating collection in neoprene has a fun, cartoonish feel, while Katie Stout's amoebic desk, also painted pink, is a humorous pun for women in charge.
INFORMATION
'Collection #3' will be on view until 15 July. For more information, visit the Chamber website.
ADDRESS
Chamber
515 W 23rd Street
New York, NY 10011
Receive our daily digest of inspiration, escapism and design stories from around the world direct to your inbox
Julie Baumgardner is an arts and culture writer, editor and journalist who's spent nearly 15 years covering all aspects of art, design, culture and travel. Julie's work has appeared in publications including Bloomberg, Cultured, Financial Times, New York magazine, The New York Times, Wall Street Journal, as well as Wallpaper*. She has also been interviewed for The Atlanta Journal-Constitution, Miami Herald, Observer, Vox, USA Today, as well as worked on publications with Rizzoli press and spoken at art fairs and conferences in the US, Middle East and Asia. Find her @juliewithab or juliebaumgardnerwriter.com