A duet of New York projects by Mathieu Lehanneur are in pure harmony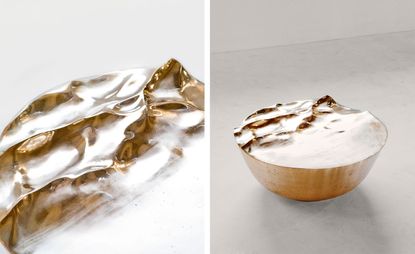 (Image credit: Mathieu Lehanneur)
French designer Mathieu Lehanneur has been busy in New York recently, unveiling a new collection at Carpenters Workshop Gallery within days of overseeing the big reveal of his interiors for Maison Kitsuné's flagship in Soho. But the two projects only overlapped at this final stretch: his new series, 'Ocean Memories', has been in the works for years, comprising weighty black marble (100-500kg of the stuff) and polished bronze monoliths that resemble slices of ocean.
A continuation of his 'Liquid Marble' work, which he debuted at Salone del Mobile in 2013, the tables, stools and bench are a result of 3D technology that translates ocean currents into replicable forms. Then, each piece is cut by a machine to precisely capture what Lehanneur calls 'the equation of liquid' into the stone. Lastly, the marble is hand-polished to perfectly preserve every ripple and wave. The effect of marble visually rendered into liquid is surreal, as if someone took a core sample of the ocean and froze it.
'It's the paradox of applying the liquid to something that is supposed to be the perfect opposite of liquid – in this case, marble,' Lehanneur says. 'Plus, I like to create pieces where it is not easy to know what time they come from. If you use plastic, acrylic, resin, then you know it is from the 1970s, 80s, 90s. Marble is a timeless material and the ocean is timeless as well.' However, the designer does not obsess over a particular method or material. 'My goal is not to make a tribute to marble or to technology,' he explains. 'I don't care about marble. I don't care about technology. I only care about the effect, the experience. I want to evoke the miracle and the fragility of being alive.'
As for the boutique, which moved to Soho after five years at its NoMad location, Lehanneur focused on the links that Maison Kitsuné makes between cultures, fashion and music to inform the new space's design. A curving vine-like rail meanders through the store's textured concrete interior, like 'a magic pencil, drawing its own line within the space', Lehanneur says. Accented with marble, mirror and bi-chromated steel elements, the elegant boutique is another iteration of Lehanneur's ability to bring organic and mineral elements together in sophisticated harmony.
INFORMATION
'Ocean Memories' is on view until 27 October. For more information, visit Carpenters Workshop Gallery's website and the Maison Kitsuné website
ADDRESS
Carpenters Workshop Gallery
693 Fifth Avenue
New York
Maison Kitsuné
248 Lafayette Street
New York