Touch and glow: a token of Lord Shiva informs the 'Monolith' table lamp
For Wallpaper* Handmade X, Indian studio Paul Matter and Belgian natural stone manufacturer Van Den Weghe produce a lamp with 'calming and meditative' energy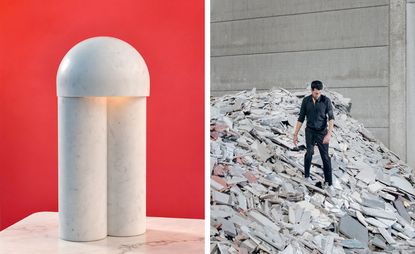 (Image credit: Max Pinckers)
All gods have their emblems. The Hindu god Shiva has more than most: among them a third eye, a blue throat, a crescent moon branded on his forehead and a serpent garlanded around his body. Shiva also has the 'lingam', a phallus-like allegorical symbol announcing his reproductive power and aptitude for constructive destruction, which inspired the 'Monolith' table lamp at this year's Handmade.

The project is a collaboration between Indian studio Paul Matter, founded by designer Nikhil Paul, and Belgian natural stone manufacturer Van Den Weghe, which has worked with Pierre Yovanovitch and Muller Van Severen, and teamed up with architect Glenn Sestig on his tabletop 'Pleasure Dome' for Handmade 2015. Paul founded his New Delhi atelier in 2016, and is known for gravity-defying lamps that often resemble globes or satellites, produced with the help of master craftsmen in materials such as hand-beaten brass, copper, stone, leather and glass.
The 'Monolith' lamp is an exercise in reduction. 'Our products usually have a lot of custom-made details,' says Paul, 'like screws, swivel nuts and washers, which were completely edited out here.' His first prototype was envisioned in brass, but Paul responded enthusiastically to Wallpaper's suggestion to experiment with stone instead. As its name suggests, the lamp is sculpted from one monolithic hunk of stone. Van Den Weghe stocks more than 600 varieties, but the team settled on Carrara marble. The stone was divided into two pieces, dome and base, which were milled and hollowed, ditching excess weight but leaving just enough thickness to prevent translucency. A single brass spine runs up the shaft, bolstering the structure and connecting the wiring like a neural network. The lamp's simple geometry, smooth surface and labyrinth of veins in the stone make for what Paul calls 'calming and meditative' interactions with light.

In India, he says, people 'tend to touch the Shiva lingam in order to unite with it, even for a second, or get vibrations from it'. This inspired the inclusion of Van Den Weghe's signature Lapris Touch technology. Users turn the lamp on and off by hovering their hand over the dome. A gentle stroke of the dome then dims or brightens the light. How does it work? 'It's a corporate secret,' says Van Den Weghe owner and managing director Tanguy Van Quickenborne. We'd like to imagine Shiva's divine intervention.
As originally featured in the August 2019 issue of Wallpaper* (W*245)
INFORMATION
paulmatter.com (opens in new tab); vandenweghe.be (opens in new tab)