'L'Usage des Jours' by Guillaume Bardet at Mudac, Lausanne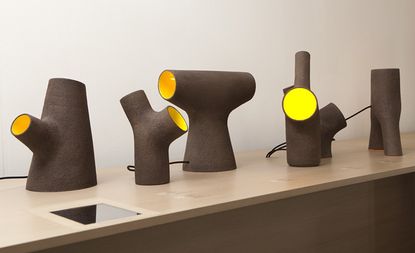 (Image credit: Photography: Olga Cafiero)
It's become a frequent artistic device to create something - a self-portrait, a song, a blog - each day for a year, and then display the efforts in a final ensemble. The Parisian designer Guillaume Bardet (opens in new tab) went one further. Between September 2009 and 2010 he sketched an object a day, then embarked on a two-year mission to create each one from clay.

The project took Bardet to the Dieulefit region of southern France, where he recruited 14 local ceramicists to help him achieve his goal. The 365 expertly refined works - along with 3D sketches, photographs and anecdotal records - appear in a new exhibit at Mudac (opens in new tab), Lausanne's museum of applied arts and design, until 26 May.

'L'Usage des Jours (opens in new tab)', as the exhibit is called, was installed by Bardet's friend, the designer Vincent Dupont-Rougier (opens in new tab), as a visual story of the ceramicist's journey, his moments of imagination and despair, challenge and boredom. Dupont-Rougier has placed the stoneware - some of it richly enamelled or finished in metal, some left matt - against a raw, industrial backdrop. The contrast allows the objects' artful finishes and lit interiors to shine more vividly.

The epic effort won the entire team the prestigious Liliane Bettencourt Prize for the Intelligence of the Hand (opens in new tab) in 2011.
ADDRESS
Mudac
Place Cathédrale 6
CH-1005 Lausanne
VIEW GOOGLE MAPS (opens in new tab)