Loom town: rug maker Jan Kath on weaving a global success story from Kathmandu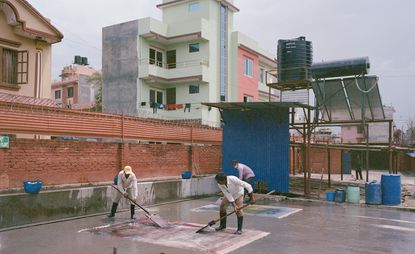 (Image credit: Jamie McGregor Smith)
Kathmandu is a city close to rug producer Jan Kath's heart. He learned how to drive on the maze-like, unpaved streets of the Nepalese capital, having moved there from his native Germany when he was 20. He has links to the Hindu temple of Pashupatinath, where he spent time alongside local priests, and to the area surrounding the stupa of Boudhanath, where Tibetan refugees settled in the 1950s, bringing rug-making traditions to the area. Most importantly, it's in Kathmandu that Kath founded his eponymous company, now one of the most innovative and well-regarded luxury rug brands in the world and one that has helped redefine the industry.

'When I look back at the last 20 years, most of my successes started in Kathmandu,' says Kath. His brand's rug production now also extends to India, Turkey, Thailand and Morocco, but it's in Kathmandu that he feels most strongly connected to the craft.

Kath grew up in the industrial German city of Bochum and travelled to Nepal in the early 1990s after spending a few years in India, working as part of a collective that organised techno parties. When he grew tired of that scene, he moved on to Kathmandu, inspired by the stories of his family (who were rug importers in Germany and had travelled there in the 1970s) and of his former school teacher (a hippie sculptor with a passion for the city). But it was a chance encounter there with a family friend who operated in the rug trade that drew Kath into the industry. 'I wasn't planning to stay in Kathmandu,' he explains, 'but to cut a long story short, three weeks later, I was this guy's man on the ground here. After two years, he asked me if I wanted to take over the factory, as he wanted to retire.' With the help of his father, Kath launched his rug company.
Jan Kath amid the looms, and rugs in progress, at one of his Kathmandu workshops

From that day in the mid-1990s, he has come a long way, building on his base in Nepal, where he now employs some 1,500 people in 25 workshops, expanding the business internationally and developing
the brand.

'It took us a few years to understand branding, what a collection means,' admits Kath. He gained insight from architect and designer Philipp Mainzer. The two met as Mainzer was building his own business, E15. The furniture company he co-founded in 1995 had a focus on progressive design, quality materials and handcrafted production methods. 'I watched him,' says Kath. 'I learned what branding means; Philipp understood that pretty early. But in the rug industry, that concept did not exist.'

Unable to compete with manufacturers producing large quantities, and inspired by Mainzer's approach, Kath determined to stand out by creating something different. He took his company in a new direction, moving away from the traditional Tibetan motifs and simple patterns he was producing, towards a more contemporary design language. In 2001, he created his first Concept collection, a series of textures and geometries that is still part of his catalogue today. He hired German photographer Rüdiger Knobloch to shoot the rugs in the stark industrial spaces of the former Zollverein coal mining complex in Essen, styled with minimalist, E15 furniture.

Rugs are hand cut to create texture and a 3D finish
Finessing his approach ever since, Kath has developed some of the most innovative contemporary rugs while championing traditional craft – all Jan Kath's production in Nepal is by hand on the loom.

Kath is not a trained designer but has a nuanced sensibility, inspired by the art of rug-making itself, the industrial area where he grew up and the bohemian influences of his youth. His designs offer visual depth, as seen in the Erased Heritage and Erased Classic collections, which depict fading traditional patterns, or the highly successful (and 2015 Wallpaper* Design Award-winning) 'Spacecrafted' series, an uncanny, woven reproduction of galactic imagery.

'Jan's strength comes from where he started out, the fact that he knows how the structure of the rug is made; it's fluency in craftsmanship,' says Aigars Zelmenis, who sells Kath's pieces at his Krassky interiors showrooms in Riga and Moscow, and at Front in London, and who has worked closely with him on developing production and bespoke pieces since 2009.

'I am part of the Photoshop generation,' adds Kath, explaining how his designs are very intuitive, a series of images mounted on top of each other.

Dyed yarn waiting to be used
The complex designs are possible thanks to the perfectionism behind his production. Kath sources local wool, silk and nettles, and these materials are hand-spun into the threads, which are then dyed and combined into bowls ready for the weavers to hand-knot into rugs. His team in Germany, meanwhile, has developed special software that allows photo-realistic designs to be broken down into pixels, creating large-scale maps that the weavers can use to recreate each design.

The whole operation becomes even more impressive when the 'slow making' element comes into play: it takes one person a whole day to spin just five kilos of yarn, and only around six dyes can be prepared per day. The most experienced loom workers will weave about one square metre of rug a month; trainee weavers must spend three months learning the method. Final steps in the making process include washing the rugs by hand, drying them in the sun, and stretching to the correct proportions before the surface is hand-cut to achieve the appropriate texture and 3D quality of a Jan Kath product. All the company's rugs are made to order, and can be individually designed, with clients ranging from rock stars to the fashion industry.

'It's a simple process, but I'm still surprised that we manage to ship large quantities of bespoke stuff out of this country on a weekly basis,' reflects Kath. He is honest about the struggles of working in Nepal, both cultural and practical. For example, he has fitted his factories with furnaces, allowing them to be independent from the often unreliable local power supplies. He has also created an impressive support system for his employees. 'I want to make sure that everyone who works for us lives to a similar standard,' he says.

His rug factories have live-in quarters, on-site healthcare and nurseries, and Kath ensures that staff's children attend schools. For some employees, whose families moved from remote villages to work for Kath, such facilities would be unimaginable elsewhere.

A rug 'map' created for the loom workers to follow

It's all worth it, it seems, as the location continues to inspire. Every year, Kath and Zelmenis invite a group of designers to Kathmandu, to witness the journey of a Jan Kath rug. They visit the workshops and immerse themselves in the culture of the city, returning to their design work with a deeper understanding of the product. 'They also become more demanding in terms of what a rug should be,' says Zelmenis.

'With their understanding, they can become our translators towards the consumer,' adds Kath.

He is extremely proud of his work in Nepal, and is currently striving to ensure the rug-making craft doesn't disappear, as many young people emigrate to find work abroad. Kath has recently developed a Bollywood-style promotional movie starring local celebrities, to be distributed across Nepal in order to convince younger generations of the craft's importance and show them how they can be part of it.

'We see ourselves as a bridge between different cultures, and we believe that we understand both languages,' says Kath. 'I understand the consumer from Fifth Avenue, and I understand a weaver from a Nepalese village; that's exactly my job. That's what keeps me going.'

As originally featured in the January 2017 issue of Wallpaper* (W*214)
INFORMATION
For more information, visit the Jan Kath website, and the Front Rugs website
Rosa Bertoli was born in Udine, Italy, and now lives in London. Since 2014, she has been the Design Editor of Wallpaper*, where she oversees design content for the print and online editions, as well as special editorial projects. Through her role at Wallpaper*, she has written extensively about all areas of design. Rosa has been speaker and moderator for various design talks and conferences including London Craft Week, Maison & Objet, The Italian Cultural Institute (London), Clippings, Zaha Hadid Design, Kartell and Frieze Art Fair. Rosa has been on judging panels for the Chart Architecture Award, the Dutch Design Awards and the DesignGuild Marks. She has written for numerous English and Italian language publications, and worked as a content and communication consultant for fashion and design brands.