London Design Festival 2020: news and events
London Design Festival returns for its 18th edition (12-20 September 2020), focusing on supporting the design community through virtual workshops and outdoor installations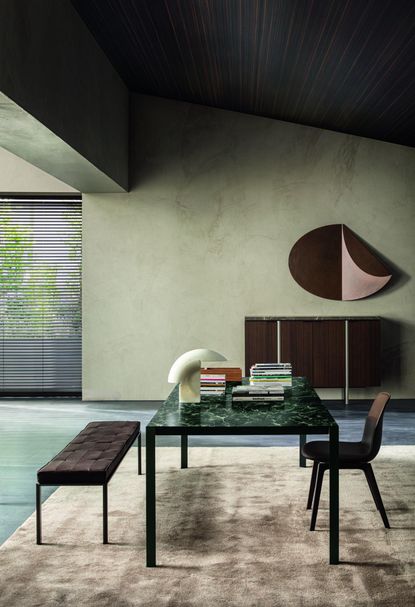 (Image credit: Michael Anastassiades)
London Design Festival focuses on 'local clusters of design,' for its 2021 edition. Festival director Ben Evans explains that this year's London Design Festival will highlight smaller neighbourhoods and practices that perhaps went under the radar in previous showcases, and celebrate London's creative pulse.
London Design Festival 2020: 'the show must go on'
The decision to keep the scheduled event going wasn't easy, but as Sir John Sorrell, chairman and co-founder of London Design Festival, says 'the show must go on...it is important the design community must stand together in these challenging times.' Many steps have been taken in this spirit of reinforcement – the festival has removed the membership paywall on the website, and have created a Freelancer Portal 'where freelancers can share design content and portfolio with the festival audience,' for amplified networking.
New districts this year include the William Morris design line in Walthamstow and a Peckham Design Trail which includes local furniture maker Jan Hendzel's new works with British timber and knife making workshops at Blenheim Forge.
While the festival manages to go ahead, the third edition of the The London Design Biennale, which was founded in 2016, has been rescheduled. In lieu of this, an international initiative is being launched with Chatham House: titled 'Design In An Age of Crisis', it is an open call for radical and rapid response to 'how we can create healthier, greener, equal and prosperous societies' – the results are set to go on display at the 2021 London Design Biennale.
Many agendas have pivoted to digital mediums, while others are remain outdoors, or by appointment only, but the energy of the community coming together is sure to feel more powerful than ever with conversations encouraging us to think about how design can work for better future.
Explore how you can engage with London Design Festival 2020 below, whether you're attending an outdoor event, dropping in, or visiting virtually.
LONDON DESIGN FESTIVAL 12020 OUTDOOR INSTALLATIONS
Unity by Marlene Huissoud
French designer Marlene Huissoud's London Design Festival Commission considers the role of designers in this age of crisis. Titled 'Unity', her work will investigate how our shared environments can look, as we yearn to remain safely connected. Unfolding in Coal Drops Yard, the interactive installation invites guests to stand in a circle and pump air into the piece as an optimistic metaphor for breathing life into the sculpture and standing together to create change.
The Hot House by Studio Weave
Emulating a Victorian glasshouse, this project by London-based architecture practice Studio Weave in collaboration with Garden Designer Tom Massey will be on view for a year. Packed with exotic and unusual plants that usually would not be found in the UK, Hothouse is supported by developers Lendlease and London Continental Railways. It hopes to highlight the accelerated rate of climate change via the species evolving over the course of time. Hothouse is 'trying to educate and inspire, trying to talk about the effects of climate change, whilst celebrating the beauty and plants,' says Ben Evans.
VIRTUAL-ONLY EVENTS
ReDesign Business: bringing the design industry and business together
'In the Age of Uncertainty, what can business and design learn from each other?' is the guiding question of this new festival that looks at the future of business through the lens of design. Founded by Deborah Rey-Burns' global speaker-agency Propela, ReDesign will be hosting an array of digital events exploring topics from bringing diverse communities together with Superflux co-founder Anab Jain, to system reseting within the current recession with Vanessa Dewey architect and systems designer Indy Johar. ReDesign looks set to open up new conversations, calling for us all to rethink, rewire and reset.
The Circular Design Project by SAP and Ellen Macarthur Foundation
Focusing on topics of food, fashion, the built environment and materials, the Ellen MacArthur Foundation is hosting multiple talks and seminars that aim to support the design community's drive towards a circular economy. Stories and resources that are being shared over the nine days of LDF aim to influence in a practical sense by showcasing organisations that are already at the forefront of the ciruclar design approach, all the while demonstrating how circular design is a rewarding endeavour. Speakers include Neri Oxman, Massimo Bottura, Sarah Douglas, Paola Antonelli and more.
Virtual Design Destination by Adorno
In response to the impact of Covid-19, digital design destination Adorno is focusing on 14 global territories under the theme of 'The New Reality'. The countries include Latvia, Lithuania and Romania and the entire showcase will feature more than 200 pieces from local talents, meanwhile local curators have been asked to focus on specific experiences, thoughts, and themes from the time of lockdown with their selections. Expect the digital gallery experience taken to another level with real-time rendering and immersive environments. Pictured: Raitūzai Mirror by Evelina Kudabaite from the Lithuanian collection
LONDON DESIGN FESTIVAL 2020 EXHIBITIONS
(un)finished – The Misused Ironmongery X Taiwanese Hardware by Liang-Jung Chen
This exhibition offers a fresh take on ordinary hardware from around the world. Founded by Liang-Jung Chen and Shuei-Yuan Yang in 2018, the project explores hardware from a different country annually, and spotlights the playful misuses of it. For this third edition, Chen will be featuring a host of utilitarian tools collected in Taiwan, while collaborating with designer Will Laslett who will present ten pieces made with British hardware, offering new meaning behind these everyday tools.
Loose Fit Furniture at Peckham Design Trail
Specialising in bespoke furniture, Loose Fit opens its workshop doors for a collaboration with artists Ruth Angel Edwards and Tom Dowse. Founded by Torble and Nicholas Buxton in 2018, their ethos is to revert away from mass produced and 'create elegant and sustainable furniture, designed and made to last a lifetime.' The studio takes pride in its artist collaborations, and for this year's showcase, they will be unveiling original pieces by each artist glazed onto tiles in two unique tables
2020: It's Good To Be Home by Gallery Fumi
The Mayfair gallery is taking a moment to reflect with a domestic exhibition that responds to how our homes 'became both sanctuary and prison' during the last year. 'We've all been through significant changes this year,' say FUMI's co-founders Sam Pratt and Valerio Capo, 'and we're taking many things a lot less for granted – including beautiful works of design which are here to enrich our worlds.' Built around familiar room settings, including a study and living area, the gallery has transformed into a calming space by Gemma Holt, who framed it with soft furnishings from thick carpets to Kvadrat curtains.

Peppered across these areas are new experimental designs by the likes of Lara Bohinc, Max Lamb, Sam Baron and Studio Glithero, who have formed vases printed with hands using an original photographic process. Included in the roster are exciting rising talents discovered by Pratt and Capo too, like Danish designer Frederik Nystrup-Larsen, and Saelia Aparicio and Shinta Nakajima, two alumni from Sarabande Foundation, a charitable trust set by the late designer, Lee Alexander McQueen. Photography: Zuketa Ltd
INFORMATION
londondesignfestival.com