Scientific theory and 1980s rock inspire Lindsey Adelman's Paradise City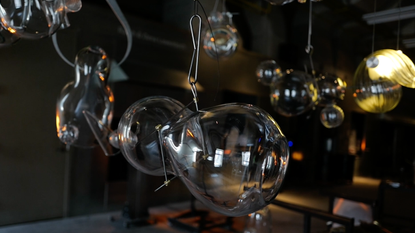 (Image credit: press)
'I've always been a fan of Guns N' Roses', says New York designer Lindsey Adelman. While it may seem like a random admission, the designer is actually in the midst of discussing how she came to name her new collection Paradise City, after the band's 1987 song. 'My memories from my time in the 1980s just get better and romanticised over time. This collection allowed me to indulge in that kind of hard rock drama and remembering Guns N' Roses kept it from ever taking itself too seriously.'

Presented at Design Miami/Basel, when the Swiss city becomes a 'paradise' in its own right for art and design collectors, the collection joins the lineup of the fair's 'Curio' presentations, flanked by the likes of Philippe Malouin and Didier LTD.

Adelman's latest work has seen her create three typologies of lighting to create a sculptural installation. Together with her team, the designer has adapted ancient Vential glassmaking techniques to come up with a method that sees the light source embedded directly into the glass' surface.
'Each light source is designed so that the LEDs emit light directed at the inner, cut polished surface of the glass allowing the light to literally travel through the material of the glass and highlight the edges, which continues to refract and reflect in each smaller glass chamber of the piece,' Adelman explains. 'I wanted to achieve the final result of the forms remaining empty and the method of light becoming somewhat of a mystery'.

The result is mesmerising. Paradise City has a complexity that ensures every view offers something you hadn't noticed before, and for Adelman, this is due to the piece being rife with references and points of inspiration. In one perspective, the viewer see voluptuous 'female' components constricted within the polished metal 'male' counterparts. However, these sections are also designed to represent our lack of control over time.

'[It's a] comment on the all-too-familiar human struggle where we hold onto moments in time – a force out of our control,' Adelman continues. 'The glass is seen to represent the incessant flow of time, while the structure represents civilisation grappling with it.'
This push-and-pull tension is visible throughout the work, albeit in different forms. Sometimes, it is presented in a difference of texture, where smooth, perfect surfaces appear to have been populated by spikey, parasitic organisms.

'The forms are inspired by diatoms, which are single-celled algae that live in houses of glass,' Adelman says. 'The microscopic view of these essential elements informed the aesthetic impression of this collection.'

Paradise City is a testament to Adelman's cross-disciplinary capabilities, but also to her wealth of knowledge – allowing her to call upon anything from mid-1980's rock music, to highly academic, scientific theory.
INFORMATION
lindseyadelman.com (opens in new tab)