Stripe show: the limited-edition Wedgwood by Lee Broom collection is top of the lines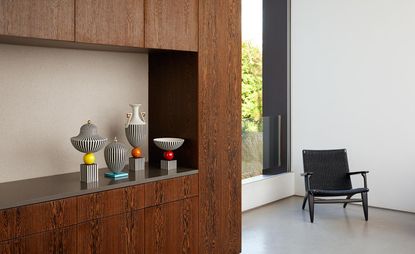 (Image credit: TBC)
To celebrate ten years in business, London-based designer Lee Broom has collaborated with British heritage brand Wedgwood on a collection of vases and bowls, pictured above. The four vessels, launching this month in a limited edition of 15, have been made in classic Jasperware at Wedgwood's Stoke-on-Trent factory. Broom drew inspiration from the company's 250-year-old archives for his pieces, including the 18th century 'Panther' vase with its black and white stripes. Treated to glossy finishes and bold splashes of colour, the pieces feel original and new. 'I've been working with Wedgwood on this for a couple of years,' says Broom. 'I don't often do collaborations, but this felt right. I'm so happy with the connection between our two brands: the Britishness of it all, one contemporary, one heritage, with references to historical manufacturing.'

With his tenth anniversary year in full swing, Wallpaper* caught up with Broom to find out more about his Wedgwood collaboration, his upcoming Salone del Mobile presentation, and what the next decade holds...
W*: How did the Wedgwood by Lee Broom collaboration come about?
LB: I was contacted by Wedgwood who asked if I would be interested in designing a collection just over three years ago and the idea was for me to create a prestige range of limited edition vases using their iconic Jasperware. Jasperware isn't something which has been touched by many designers over the years so I was really excited at the prospect of creating my own interpretation of something we all know so well. I designed the collection in London but also spent many days in the Wedgwood archive and visiting the factory in Barlaston, Stoke-on-Trent.

The pieces feel formally contemporary - how did you balance this with Wedgwood's long history and traditions?
During my time in the archives I looked back at a lot of Jasperware silhouettes from different periods. I wanted to retain the very classic Wedgwood silhouette but strip back the ornamentation. This immediately gave the vase a very contemporary feel. I then looked at combining the graphic stripes with postmodern elements, such as introducing vibrant colours and high gloss lacquered textures which starkly juxtapose the very matte biscuit finish of the traditional Jasperware. As a result, I think the collection looks both distinctly Wedgwood and Lee Broom at the same time.
You've said before that you don't do many collaborations. Why is this? Has this collaboration changed your mind?
I have found it tricky at times to fit in collaborations, however, we are ten years old this year and collaborations are something we plan to do a lot more of. When I am working on my own collections, I set my own brief so the canvas is completely blank. With a collaborative project, you are often given a distinct brief which for me, pushes my brain in a direction I potentially may have not have ventured into otherwise. So for me as a designer that's incredibly exciting and very rewarding. It also allows me to potentially work with materials I have never touched on before such as ceramics - as with Wedgwood.
What other exciting anniversary projects can we expect this year for the studio?
Milan Design Week is our next focus. We are planning a show to celebrate our ten years called 'Time Machine' which will be a look back on the past decade, interpreted in a very new and a very unique way. Over the past few years I have created immersive and experiential presentations and this one will be no different. We are also presenting in the new design district, Ventura Centrale inside a disused 350 sq m vault within the Milano Centrale station. It is an incredible location – so worth seeing.

You've conquered so much in the last ten years - what does the next decade hold?
We have grown rapidly as a brand over the past ten years with over 250 stores selling our products across the world and two stores of our own in London and New York. However, there is still so much more I would like to create as a designer. I feel like we have only just begun.

This article was originally featured in the March 2017 issue of Wallpaper* (W*216)
INFORMATION
The Wedgwood by Lee Broom collection is available exclusively from Harrods, with prices starting from £7,500. For more information, visit the Lee Broom website, the Harrods website, and the Wedgwood website
Receive our daily digest of inspiration, escapism and design stories from around the world direct to your inbox