Lake Como Design Festival explores neo-nomadism
Staged across historical venues in Como, the latest edition of the Lake Como Design festival (17 – 25 September 2022) includes exhibitions and talks centred around the theme of nomadism, and how it has shaped culture and creativity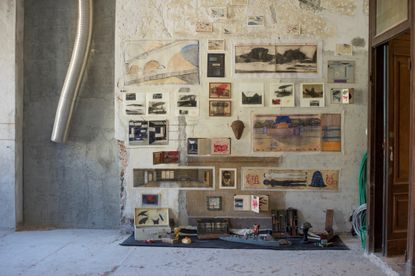 (Image credit: TBC)
Wallpaper* Newsletter
Receive our daily digest of inspiration, escapism and design stories from around the world direct to your inbox
Thank you for signing up to Wallpaper. You will receive a verification email shortly.
There was a problem. Please refresh the page and try again.
As the world, with its industries and workers, with its inhabitants and desires, is undergoing a continuous and perpetual change, we are experiencing a new movement called neo-nomadism. This concept reveals the physical and physiological movements and journeys we embark on every day. Some do it for work, love, or pleasure, but moving is a constant part of our lives, of our thinking and creative process.
Lake Como Design Festival 2022 (17 – 25 September), the event's fourth edition, focuses on the concept of neo-nomadism, exploring the movement of people between digital and real life through the lenses of the economic and climate crises, and examining how these migratory processes influence the creative industry.
'The theme seemed particularly interesting this year, also in light of all the changes that are taking place around us: nomadism has always identified human history and thanks to the movement of people, stratifications have been created that allow us to have such a deep and kaleidoscopic culture,' comments Lorenzo Butti, Lake Como Design Festival creator and artistic director. 'We are now experimenting with new forms of nomadism that live alongside the more "traditional" ones, increasingly linked to economic disparities between the various parts of the world and to climate change. The aim was to do a survey in art, design and creativity in general to understand how this new nomadism affects artistic expressions.'
Lake Como Design Festival 2022: the highlights
Taking place in the historic city centre of Como, this year's edition presents a rich programme of exhibitions, talks, installations, and events. These include the collective exhibition 'Erranti', showcasing 20 international artists, curated by professor and author Francesca Alfano Miglietti; 'In Search of Lost Time', a collective project realised together with Movimento Club; an installation at Casa Bianca, in collaboration with Galerie Philia; and a series of 'refreshment design talks' that will dig deeper into neo-nomadism – a programme giving its audience food for thought.
'[Design is] a happy and rebellious journey,' says Alfano Miglietti. 'And a journey often shows us unpredictable and unexpected corners and sides. Design for me has always been an almost personal relationship with individual authors, a way of creating other weaves and other rhizomes. [Philosopher] Gilles Deleuze wrote: "In a rhizome you enter from any part, each point connects with any other, it is composed of moving directions, without outside and without end, only an inside from which it grows and overflows, without ever depending on or deriving from a unit; without subject or object."'
Journalist Prashanth Cattaneo, curator of Como Design Festival's talk section, has put together a series of conversations exploring neo-nomadism from different perspectives. However, one underlying question that characterises this programme is 'whether it is possible to engage in a discussion on neo-nomadism starting out from those who remain; those who choose not to move from their place.' The idea of travelling, staying, and the creative process as a journey to embark on are just a few of the themes that will be tackled in the programme – which includes Studio Calvi Brambilla, Ivan Bargna, Studio Wok, Tommaso Melilli among others. This extensive series of panel discussions will take place at the Portico del Broletto, Palazzo Broletto, while the festival expands to other nearby venues.
'"Erranti" is the theme that runs through the exhibition, as wandering is the history of human beings, a history of movements, diversity and exchanges,' comments Alfano Miglietti. 'We ourselves are all crossroads, both biologically and culturally.' It will be interesting to understand how this message is passed to the audience in Como: speaking of which, the curator adds: 'I expect the works to become mechanisms of joy and authenticity, of poetry and reflection, but in truth, I don't know what will come to the public; the public is made up of different individuals. I hope the exhibition can stimulate the uniqueness that exists in anyone.' This year's Lake Como Design Festival will definitely make us wander and wonder.
NFORMATION
Lake Como Design Festival runs from 17 to 25 September 2022
lakecomodesignfestival.com
Receive our daily digest of inspiration, escapism and design stories from around the world direct to your inbox
Maria Cristina Didero is an independent design curator, consultant and author, who has contributed to many publications over the years; she is currently Milan editor of Wallpaper* . Didero has consulted for companies such as Vitra, Fritz Hansen, Lexus, Fendi, Louis Vuitton, Valextra among others. Based in Milan, she works internationally, curating exhibitions for institutions: some of her most recent projects include Nendo: The Space in Between and The Conversation Show at the Holon Design Museum, Israel; FUN HOUSE by Snarkitecture at National Building Museum, Washington D.C.; SuperDesign a project about Italian radical design, NY; Vegan Design, or the Art of Reduction by Erez Nevi and The Fish and The Crowd by Carlo Massoud, Milan. In April 2022 she curated a Mathieu Lehanneur exhibition at the Triennale in Milan called The Inventory of Life, while in July she debuted a project at the MK&G in Hamburg titled Ask Me if I Believe in the Future, alongside a series of ongoing collaborations. She was appointed 2022 Curatorial Director of Design Miami/. She is currently preparing two projects for Milan Design Week 2023.