Kvadrat Sisu fabric by Nanna Ditzel reinterpreted by Danh Vo
Originally conceived by Nanna Ditzel in the 1960s, the Kvadrat Sisu upholstery fabric is a bold take on the designer's iconic Hallingdal, now revisited by artist Danh Vo in 16 new colours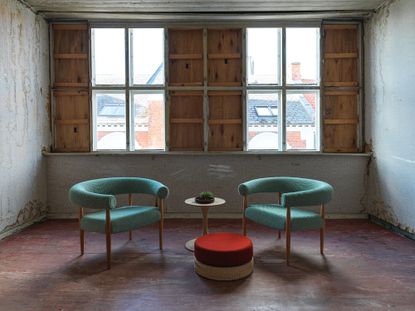 (Image credit: Nick Ash)
Few have contributed as much to Danish heritage as the midcentury designer Nanna Ditzel, renowned for having broken traditional thinking patterns with her prolific output, which spanned from furniture and jewellery to silverware and textiles. Where the latter is concerned, Ditzel's acclaimed Hallingdal from 1965 is revered in the textile world. The first textile to be released by leading manufacturer Kvadrat (opens in new tab), it went on to become an archetype for many that followed.
Nanna Ditzel and Danh Vo: Kvadrat Sisu
Stine Find Osther, vice president of design at Kvadrat, says, 'Sisu directly links to Hallingdal, which is one of Kvadrat's first textiles and plays a big part in our story. It also acts as a timely reminder that most textile designers have traditionally been women – which is sometimes overlooked. The idea of underlining the defining role of female designers informed our exploration of the Kvadrat archives from the start.'
Ditzel was a key figure in the renewal of Danish design in the 1990s, and this progression by Vo feels fitting as the next step in revitalising a classic. Sisu showcases the enduring relevance of Danish design, carried forward by Vo's curiosity about how textiles shape the experience of furniture, which is what originally drew his attention to Ditzel's work. 'I was curious about materials and what defines their purposes, or occupations so to speak. Why is it that fabric cannot be in the foreground? How do we differentiate between these kinds of things in art and design?' says Vo.
'It was a good experiment to go back to a time when people were much more wild. I really believe in empirical knowledge and to gain that knowledge is to work with it, see the potential and jump into it and see how it's functioning. If we think that colours are all about light, and how light reflects a surface, why is it that painting is this protagonist of culture, while textiles are made to reflect light in a much more constructive way in the house?' Vo continues.
The original Hallingdal is available in an expansive scale of vibrant pastel colourways, while Sisu comes in a more tightly curated 16 colourways, matched to Hallingdal to ensure a seamless complement. The project is a testament to the circular nature of design. 'Many companies don't design things to last. So, it is beautiful to see how seriously Kvadrat has reproduced this textile with every intention to make it last,' Vo says.
In a continuation of the pioneering work that Kvadrat is known for, Sisu is both contemporary and classic, breathing new life into a deeply rooted Scandinavian design icon driven by simplicity and innovation.
INFORMATION
kvadrat.dk (opens in new tab)