Ronan Bouroullec's drawings become Kvadrat textiles
Danish textile brand Kvadrat sees the power of Ronan Bouroullec's drawings, launching a new collection inspired by his sketches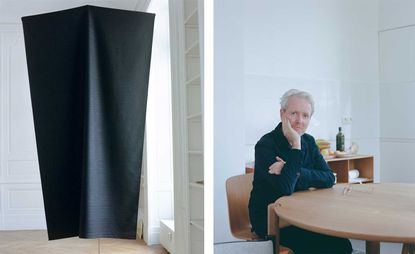 (Image credit: Crista Leonard)
Ronan Bouroullec says he has been drawing since his childhood in Brittany, France. 'I grew up in the countryside, far from my friends. My brother was much younger. We had no TV. I played football alone, against a wall. Drawing became a necessity, it filled the void.' He still feels the need to draw every day, and keeps a personal studio – a large, light-filled apartment in Paris' 9th arrondissement – for that purpose.
On the day I visit, many years' worth of drawings are spread out over the floor, being narrowed down to a few hundred for an upcoming museum show in Toulon. Among them sit a box of fabric samples, a new collection inspired by Bouroullec's drawings, freshly arrived from Denmark. Their producer, textile company Kvadrat (with whom he and his brother Erwan have collaborated since 2005), is presenting the fabrics at Salone del Mobile 2023 this spring.
It was thanks to Instagram that Bouroullec started sharing his drawings with the world, and that Kvadrat asked him to design the textile collection. 'I saw obvious qualities: tactility, colour, shape,' says Kvadrat CEO Anders Byriel. He mentions the German word unmittelbar, meaning the works have an immediate effect on the viewer.
Ronan Bouroullec's drawings inspire textile collection
Bouroullec holds one fabric sample up to the wall, next to a drawing whose fractured lines vaguely resemble bamboo. Although his two activities, design and dessin, are quite separate, he says there are constant bridges, each one 'irrigating' the other. 'It's not like one day there's Ronan who draws and the next, Ronan the designer.'
But unlike his supremely disciplined approach to design, his work on paper is instinctive and improvisational. Using everything from Bic pens to watercolour markers, he creates organic, abstract, often colourful forms that appear simple, yet are highly detailed with great depth and texture. He compares the process to meditation or jazz, saying he is frequently surprised to see the result. 'It's like a trail that you walk every day until you arrive. You see when you've arrived, but you don't remember what happened while you were walking.'
Taking an olive green Japanese brush pen in his left hand, he demonstrates his technique for designing the collection for Kvadrat, using glossy paper in the same dimensions as the fabric rolls. Holding the pen at an angle, he makes a series of parallel lines. Since the paper does not fully absorb the ink, the lines are broken up, and breathe with random gaps and bubbles. It is a textured effect that Bouroullec has played with for years. For the textile collection, he says, 'The trick is not to feel the repetition of a pattern, even though that's what it ultimately becomes.'
Although it took more than three years of back and forth with Kvadrat to obtain the desired results, Bouroullec says his approach to the collection's production was relatively hands-off. 'The only time I work this way is with textiles. I design objects in a very precise way, knowing every detail of how they will be constructed. But I don't understand how textiles are made. I provide drawings with my intentions, and it's interesting to see how they are translated.'
The collection, comprising three different families, is subtle and sophisticated, like much of the Bouroullecs' work. The first family, named 'Alle', is upholstery fabric woven of 92 per cent virgin wool and eight per cent nylon. Raised, imperfect parallel lines traverse the fabric, their position seemingly random, close together at some points, spread out at others. Bouroullec compares the texture to that of a tree trunk, saying, 'I wanted a vibration, like it's almost alive, like the drawings.' The light plays with the threads differently, so the raised threads shine, while the flat background appears matte. Byriel says the effect is even better than he had hoped for. 'It was a very difficult task. We really achieved something that looks like paint, like brushstrokes.'
The other two fabric families, 'Sone' and 'Tero Outdoor', have identical patterns and are woven from 100 per cent post-consumer recycled polyester, which Byriel says gives it a precision, as opposed to the wool's blurrier aspect. ('Sone' is meant for indoor use, while 'Tero' is made to weather the outdoors.) More geometric, these fabrics have distinct planes of lines flowing in different directions, like an aerial view of agricultural fields. Bouroullec says, 'It has a very organic feel, an optical effect that gives variety to the surface as the direction changes, like hills and valleys.'
Bouroullec chose the colours, but cannot explain what motivates his decisions, aside from a feeling. 'Alle' comes in 11 colours and a fairly neutral range, including a creamy white, a dark green on black, and one brick shade. 'Sone' is available in 16 solid colours, with muted tones as well as fresh shades of green and yellow. Each fabric of the 'Tero Outdoor' family is woven with three colours, which serves to really emphasise the patterns.
Byriel notes, 'It is extremely difficult to translate painting into a textile that gets its own identity and beauty, but I think we succeeded. We took something beautiful and created something beautiful. Not just a resemblance, that's not good enough.' Now he's looking forward to seeing how designers use the fabrics in real-life applications. 'That's where we become part of something bigger. That's what I'm excited about.'
Kvadrat's fabrics will be on show from 17-22 April at Kvadrat, Corso Monforte 15
A version of this story appears in the May 2023 issue of Wallpaper*, available now in print, on the Wallpaper* app on Apple iOS, and to subscribers of Apple News +. Subscribe to Wallpaper* today