Collage days: curator Matylda Krzykowski's eye for pastiche and design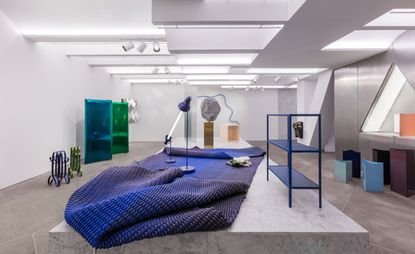 (Image credit: Matylda Krzykowski)
Upon entering the peculiar playpen of design currently on view at Chamber in New York, the urge to learn the exhibition's theme is inevitable. With 'Just What Is It' – the show's tongue-in-cheek title – the answer is a little more complex; the jumble is an artwork of its own, a conceptual collage conceived by Switzerland-based curator Matylda Krzykowski.

Krzykowski follows in the footsteps of Studio Job and Andrew Zuckerman for the third iteration of the exhibition series at the boutique/gallery. Taking her inspiration directly from Richard Hamilton's collage Just what is it that makes today's homes so different, so appealing?, Krzykowski reinterprets the British artist's concept in a 3D compilation of specially comissioned and existing works.
'Ancient Drawing of a Very Mysterious Forceniert Nochmals' by Rafal Dominik
'Richard Hamilton thrived on ambivalence, playfulness and observation, and without comparison, I thrive on the same,' says Krzykowski. Contrasting forms, like Studio Silo's surreal Chicken sculpture and Studio Swine's boulder-shaped 'Metallic Geology' cupboard, she appraises the side of design void of consumerism. The curator explains: 'Once something is successful, the industry mass-produces it to a level that nothing is left from the initial idea.'

The fringes of the 'photomontage' play between silhouettes in steel squiggles by Polish sculptor Rafal-Dominik, and organic curved shelves by Robert Stadler. These stand in opposition to the abstract geometry of a trio of specially comissioned pieces – Florian Ziller's dynamic foldable mirror, Martino Gamper's rubbish bins and Deborah Bowmann industrial room dividers, all in metallic or reflective finishes.

Elsewhere Jochen Holz's blown glass neons and Os and Oos' graphic lighting straddle the realms of art and functional design. Mirka Laura's Still Life series tackles Krzykowski's tumult, questioning the very notion of what a product is.
Still life by Mirka Laura
Krzykowski steers clear of the one-note palette of mass-produced domestic design too – blue accents guide visitors around the space. Sprawled across the central marble plinth is Louie Rigano and Gil Muller's robust weaved rug, Jiří Pelcl's whimsical metal teddies and Tina Roeder's shelving, all in similar electric hues.

'Once the pieces in the gallery find an owner, the mode of camaraderie is broken, and the individual relationship to these possessions begins,' she adds. Krzykowski intends to add more layers to her collage – the next three chapters of her installation are set to unfold between now and spring next year.
INFORMATION
'Just What Is It' is on view until May 2017. For more information, visit the Chamber NYC website (opens in new tab)
ADDRESS
Chamber
515 West 23rd Street
New York, NY 10011
VIEW GOOGLE MAPS (opens in new tab)