Becoming Bauhaus: the defining eras of Josef Albers, at Stephen Friedman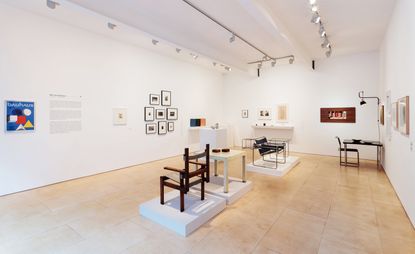 (Image credit: Mark Blower, Stephen Friedman Gallery)
The German-born American artist Josef Albers is much celebrated for his Homage to the Square paintings, but a new exhibition at Stephen Friedman Gallery in London is bringing to light a seldom-seen chapter of his life and oeuvre. Opened this week, the show tells the story of the Bauhaus ­– the German revisionist school founded in 1919 by the architect Walter Gropius – through Albers' prolific output, alongside furniture, objects, ceramics and photographs by his colleagues including Marcel Breuer, Otto Lindig and Marianne Brandt.

It's the most substantial exhibition of Bauhaus art and design mounted by a commercial gallery – many of the pieces on show have never been exhibited in the UK before – bringing together material loaned by the Josef and Anni Albers Foundation, as well as from private collections. 'We look at Bauhaus design and assume that because the designs are so famous and were produced in greater number later that there are lots of them, which isn't the case,' explains curator Oscar Humphries.

In the main gallery space, an eye-catching glass painting – City, 1935 – hung in the far corner immediately draws us in for a closer look. 'To have an Albers glass work in the show is really special,' says Humphries, arguing that works such as this are Albers' most important Bauhaus-era pieces. Sadly, as is the case with so many Bauhaus designs, few examples of Albers' glass works exist, either broken during the war or by being mishandled by US customs when he moved to America.

This particular painting was made to record a lost glasswork from a decade earlier; as with much of Albers' work, there is more to the piece than meets the eye. 'The painting,' Humphries explains, 'is in an Albers-designed frame and together show how much he valued – as we should – his work from the Bauhaus period.'

Elsewhere in the show, Albers' 'Tea Glass with Saucer and Stirrer' is a wonderful sort of Duchamp-esque arrangement of found objects. The porcelain dish, for example, was originally produced by Meissen for scientific use; the only element created by Albers himself is the connecting metal and the ebony handle. 'It's very Bauhaus to take these mass-produced elements and make another thing from it. And very Albers,' Humphries explains of the tea glasses, which never went into production.

As pivotal as Albers was to the Bauhaus, it would be impossible to paint a full picture of the German art school without including works by his influential peers. An 18-year-old Marcel Breuer joined the Bauhaus in the very same year as Albers. The exhibition features a rare example of his 'Lattenstuhl', 1923 – actually made at the Bauhaus workshop – and rarer still, the 'Wassily Club Chair', 1927, which only existed in prototype form before the version on show was produced (both are courtesy of Galerie Ulrich Fiedler). The curator adds: 'Few people bought Breuer's furniture when he first made it – it wasn't until the 1950s that taste caught up with him.'

Other highlights include a Bauhaus wallpaper sample book, a Brandt-designed inkwell and archival photographs of the school, as well as a characterful chess set by Josef Hartwig and Joost Schmidt.

In 1933, the Bauhaus bowed to mounting pressure from the newly elected Nazi government and closed. Albers went into exile in America. 'Albers was in his 40s when he moved to the US; he could have simply taught and his contribution to the Bauhaus would have been enough to cement his place in art history books,' says Humphries. 'He didn't though. His best work – arguably – was ahead of him.'

Enter Annelise Fleischmann – or, as we know her now, Anni Albers. The textile artist/printmaker met Josef in 1922 at the Bauhaus, marrying him three years later. After the closure of the school and the subsequent transatlantic move they travelled frequently to Mexico and throughout the Americas. 'Mexico,' wrote an enthused Josef to Bauhaus colleague Wassily Kandinsky, 'is truly the promised land of abstract art.' Anni, meanwhile, became a keen collector of pre-Columbian art – a passion that manifested itself visually in her work.

To wit, a second room of the exhibition explores the couple's post-Bauhaus endeavours. Nicholas Fox Weber, executive director of the Josef and Anni Albers Foundation, quipped, 'How great to be discussing this exhibition with someone from Wallpaper*, because the absolute thriller in the show is the use of wallpaper.' Here, Lucy Swift Weber – who leads the foundation's special projects – has transformed Anni's 'E' pattern into bold wallpaper in collaboration with Christopher Farr Cloth.

It's the very first time Josef's work, too, has been exhibited on Anni's wall coverings. 'Oscar Humphries papered a room with it – an act of sheer panache,' Weber adds. 'The Bauhaus joie de vivre in everyday living has been brought to life as never before nearly a century after the school was created.' But mostly, the Stephen Friedman exhibition offers a rare and poignant example where a whole – the Bauhaus, and Mr and Mrs Albers for that matter – was equal to the sum of its truly brilliant parts.
INFORMATION
'Albers & the Bauhaus' is on view until 12 March. For more information, visit Stephen Friedman Gallery's website
ADDRESS
Stephen Friedman Gallery
Gallery Two
11 Old Burlington Street
London, W1S 3AQ