Jony Ive's LoveFrom unveils official website
Launched today, 11 October 2021, LoveFrom.com reveals the creative collective's visual identity, anchored in a Baskerville-inspired typeface called LoveFrom Serif, provides a statement of purpose, and pays gentle homage to Apple's Steve Jobs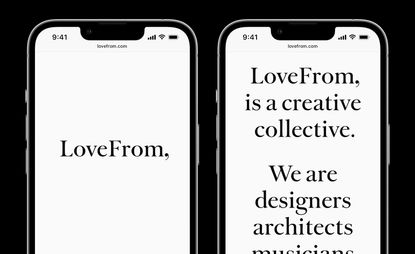 (Image credit: press)
Wallpaper* Newsletter
Receive our daily digest of inspiration, escapism and design stories from around the world direct to your inbox
Thank you for signing up to Wallpaper. You will receive a verification email shortly.
There was a problem. Please refresh the page and try again.
LoveFrom, the creative collective founded by Jony Ive which includes his long-time collaborator Marc Newson, has unveiled its website, LoveFrom.com. The launch marks the most public move to date by the collective, which has worked quietly since its founding in 2019 and only made general announcements of collaborations with Apple, Airbnb and Ferrari.
LoveFrom.com went live today, 11 October 2021 at noon Pacific time, revealing a visual identity designed by members of the team including Ive, legendary art director Peter Saville, and Chris Wilson and Antonio Cavedoni, both former members of the Apple design team. The site is as intriguing as it is declarative, opening with a simple wordmark, and followed by a brief text described as 'a concise and finely crafted definition of the LoveFrom collective and its work'.
LoveFrom Serif – an expression of the collective's identity
Both the wordmark and ensuing text are set in a new typeface, LoveFrom Serif, which is inspired by John Baskerville's letterforms and based on studies of his original punches and matrices. From this basis, the design team created an expanded type family with flexible, scalable digital faces in multiple weights and optical sizes. 'Each character has been lovingly redrawn, refined and meticulously crafted over the past two years,' explains the collective in an accompanying press release.
Within the wordmark, the 'LoveFrom' name is given an additional flourish by a comma, a move that Saville describes as initiating a dialogue and shared conversation. In its animated version, a text cursor blinks as the eight letters of 'LoveFrom' appear to be typed out. The comma then appears, rotating, rolling around, transforming and bouncing atop the other letterforms before it finally settles into place.
RELATED STORY
LoveFrom.com – a statement of purpose
The text opens with familiar lines: 'LoveFrom is a creative collective. We are designers, architects, musicians, filmmakers, writers, engineers and artists.' It acknowledges that the viewer may already know LoveFrom by its members' past work, and then offers a statement of purpose:
Further down is the line 'We work on projects for joy', echoing a sentiment shared by Ive and Apple's former chairman, CEO and co-founder Steve Jobs. In a remembrance first published by WSJ Magazine a week ago, on the tenth anniversary of Jobs' death, Ive wrote: 'He truly believed that by making something great for people, something empowering, beautiful and culturally significant, we express our gratitude and our love for humanity.' Both the LoveFrom name and the timings of today's website launch are an homage to Jobs, and an indication of the creativity, collaborative spirit and generosity he continues to inspire.
The collective adds, 'We look forward to continuing the conversation about our work, our team and our creative process.'
The animated LoveFrom wordmark features a comma that rotates, rolls around, transforms and bounces atop the other letterforms before it finally settles into place. Peter Saville describes this typographic flourish as initiating a dialogue and shared conversation.
INFORMATION
Receive our daily digest of inspiration, escapism and design stories from around the world direct to your inbox
Sarah Douglas is Editor-in-Chief for Wallpaper*, where she is responsible for the content across the print magazine, digital platforms, in-house creative agency Bespoke, brand partnerships, and events. Joining Wallpaper* in 2007 as Art Editor, Sarah became Creative Director in 2012, before being named Editor-in-Chief in 2017. During this time she has commissioned an array of illustrious artists and designers including Jean Nouvel, Yayoi Kusama, Tom Sachs, Nendo, Virgil Abloh and Jenny Holzer; championed talents such as Formafantasma, Sabine Marcelis, Martino Gamper, Bethan Laura Wood, Philippe Malouin, and Craig Green; and overseen partnerships with leading brands including B&B Italia, Prada and Rolex. Sarah is also a member of the judging panel for the London Design Medal, and regularly judges for international design competitions.