His and hers: a visit with Brooklyn artists John Aaron Frank and Charlotte Greville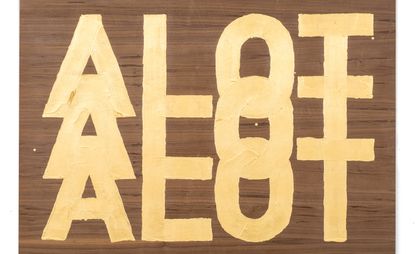 (Image credit: TBC)
At the southeast tip of Greenpoint, newlyweds Charlotte Greville and John Aaron Frank are honing distinctly different crafts. Home for them is a live-work loft in a neighbourhood geared toward building supply companies. It's typical of a Brooklyn that edges closer to extinction every time it's acknowledged.

She makes jewellery and home accessories, including a line of teardrop-shaped breast charms– complete with tiny nipples. He makes art with car parts. But to characterize their relationship as simply yin and yang couldn't be further from the truth.

'The boob has so much power,' Greville says as Frank nods in agreement. He has been known to sport the pin.

Greville, a Bard alumna, started out as a stylist working with George Cortina, but in 2010 she decided it was time to style her own creations. Greville draws on a number of inspirations, from mid-century modern interiors to the natural formations of Watkins Glen State Park– a favourite Finger Lakes retreat. When Frank gave her a sander, she began a series of geometric wood pendants themselves like tiny pieces of furniture.

'The world dishes up materials,' the couple agrees.
Frank's version of a 'ground score' is a discarded windshield. After graduating from Cooper Union, he worked for various artists and painted motorcycles before establishing his own studio. His circle of like-minded creatives includes Kanye West-collaborator Wes Lang, who is also responsible for Frank's American flag tattoo.

Painter, sculptor and motorcycle enthusiast Olivier Mosset became a mentor to him, and connected Frank with Swiss Galerie Lange + Pult, including him (with Lang) in the 2012 show 'Hell Raisers'. Frank's first solo show with the gallery was in 2013, and in 2015 'John Aaron Frank - Every now and then' ran in Zurich.

Frank says his work speaks to the Swiss affinity for Americana and Rock 'n' Roll culture.

Most recently, Frank was included in Leila Heller Gallery's 'Shrines To Speed' exhibition. He showed an iridescent windshield and a string of pennants made of tinted automotive glass.

But mixed in with these works is his lettering. Like brass paint on wood that says Alot Alot Alot (2015) and On, doubt(2015) reading 'Adieu whatever I want adieu.' On the day I visit the studio, Frank has just applied a coat of metal to a plaster Although.

Meanwhile, Greville is moulding wax prototypes for her next jewellery line. Although stylists still gravitate to her wooden jewellery, she feels most buyers 'want the shiny stuff.' Plus, when the jewellery is cast, the quicker turnaround favours experimentation.

She shows me prototypes for mushrooms that would close around the finger like her other adjustable rings. And if that's too phallic, well, at least there are the boobs to balance it out.

'They're my form of feminism,' she says of the breasts. At Jeffery-West (you can also buy her work at buzzy Williamsburg boutique Electric Nest), they're marketed as unisex– as they should be.

And this is the great thing about the joint studio: her feminism is actually a universalism, and his so-called car art is surprisingly poetic.

The Brooklyn-Queens Expressway dominates the view from the couple's loft. I ask whether the noise is an irritation. It's really not that bad, Frank says, imitating the cars' constant hum.

The lucky ones will go to a gallery in their next life.
INFORMATION
For more information on John Aaron Frank visit his website (opens in new tab)

For more information on Charlotte Greville visit her website (opens in new tab)