DIY social club: Aaron Rose's art-filled pop-up bar in downtown LA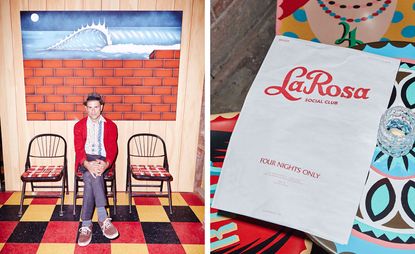 (Image credit: Aaron Rose )
For years, LA-based artist Aaron Rose has been traveling to Berlin for work – the city's Circle Culture is his main parent gallery. So it's no surprise that he decided to bring one of his favourite European haunts back home, to coincide with last weekend's LA Art Book Fair at MOCA's Geffen Contemporary.

'There are all these great little underground bars where kids rent a space and put a folding table and a disco ball and call it a bar,' he explains. 'These little DIY social clubs are very inspiring to me because with not a lot of money and an idea these people make their dream space happen – and I've always wanted to do something like that.'

As a result, Rose built his very own art bar, dubbed La Rosa Social Club, that was open until Sunday inside a warehouse in the downtown Arts District. 'LA is a hard town to see people in because it's so spread out; so I thought with the fair in town it was an easy way to get people together to meet and exchange ideas.'

The bar is located in the front section of the new Project Space from Kinfolk and LA creative agency Alldayeveryday, which has worked with everyone from The Standard hotels and Alexander Wang to Janelle Monáe and KAWS. 'It was just this abandoned space with all this wood from the factory they had demo'd, so they offered us a space and we used all that garbage wood to build the bar,' explains Rose, who hand-painted nearly every surface, including much of the thrift store furniture, vases and lamps brought in by the design team he uses on his films. 'From an architectural standpoint it told us what it wanted to be, which was kind of cool.'

Rose calls the resulting aesthetic – from the illuminated milk crate bar and checkerboard floors to the bottles holding fresh flowers and faux-brick fort-like superstructure – 'Tijuana Modernism' and he's ratcheted up the artistic quotient by inviting a number of artists to intervene on the space. Rose commissioned Jesse Spears to collage the bathroom in 1970s-era issues of Low Rider magazines, while artists like Alexis Ross have integrated their works into the walls in a way that are meant to feel like bar decorations. The 'polar opposite of the bar' can be found in the desert-themed reading room – an all white, 70s-style lobby lounge.

In a way, the space's most delicate works are the ones most bar patrons would toss in the garbage. Rose commissioned 12 artists (including Barry McGee, Chris Johanson, Wes Lang, Geoff McFetridge, and the septuagenarian Supergraphics star behind the Sea Ranch, Barbara Stauffacher Solomon) to design cocktail napkins, which were printed in editions of 100 and given out with each purchased drink.

'The idea is that you could get the full set – you'd just have to buy 12 drinks,' says Rose, who is documenting the happenings every night. 'Everything in the bar, even the workings of the bar, are works of of art. When it's full of people they all become part of the installation and they all go through this communal experience together.'

When Rose and his crew take sledgehammers to the space he'll have earned the right to say: Ich bin ein Berliner.
INFORMATION
For more information, visit Circle Culture gallery's website