Jasper Morrison's new chair for Molteni & C is a tribute to lightness
Jasper Morrison's new 'Tea' chair for Molteni & C is a refreshing take on traditional dining chairs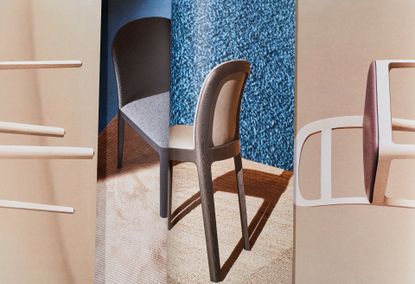 (Image credit: Artwork by Studio Likeness)
Billed as a tribute to lightness, Jasper Morrison's 'Tea' chair for Molteni & C is the British designer's second creation for the Italian luxury brand – the first being the 'Ink' home office, a cosy bureau made entirely of American walnut. Morrison's predilection for wood is key to this latest design, presented at Salone del Mobile 2021: the 'Tea' chair's frame is made entirely of solid eucalyptus, black oak or natural oak, a simplicity that outlines and reveals the profile of the chair in its entirety.
'My intention with the "Tea" chair has been to update the traditional wooden-framed, upholstered dining chair,' explains the London-based designer. 'The upholstery has been reduced to a surface rather than a volume, which is hidden within the frame. So the comfort is a slight surprise and the visual heaviness that upholstery usually brings has been eliminated.'
The chair's backrest is also precisely thought through: 'I chose to give it a more rounded backrest shape and to keep the backrest relatively low, because I dislike the way tall-backed dining chairs hide the table,' says Morrison.
Blending elegance and ergonomics, the 'Tea' chair's seat and backrest are clad in cold-moulded polyurethane foam and available in the entire Molteni & C textile and leather collection, in a choice of nearly 150 colours. These include Andromeda canvas fabric in sandy hues; Kupido linen in earthy tones; a range of bouclé fabric in dark blues and browns; bright green velvets; deep purple Sunniva wool and grey textured Luxor leather.
'Working with Molteni has been very smooth, they gave me a completely free rein,' says Morrison. 'The development took quite a long time due to the pandemic, and the complicated part was integrating the upholstery into the frame and maintaining a good level of comfort, but I'm satisfied we achieved that.'
We're inclined to agree – the elegant result, more of a light green tea than a builder's cuppa, is certainly to our taste.
INFORMATION
From £1,258
Léa Teuscher is a Sub-Editor at Wallpaper*. A former travel writer and production editor, she joined the magazine over a decade ago, and has been sprucing up copy and attempting to write clever headlines ever since. Having spent her childhood hopping between continents and cultures, she's a fan of all things travel, art and architecture. She has written three Wallpaper* City Guides on Geneva, Strasbourg and Basel.