How Instagram championed inclusive design at Design Miami
Spearheading its #designforall campaign, social media institution Instagram leaped out of the digital realm and into the Design Miami tent with a booth designed by Studio Swine with lower CO2 emission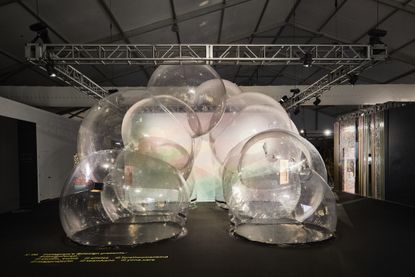 (Image credit: Petr Krejci)
Social media giant Instagram launched its @design account two years ago with the goal of bringing creativity to a wider audience. Now, the platform is climbing out of the digital sphere and into the real world for an inaugural Design Miami (opens in new tab) showcase that aimed to grow the reach of its current campaign #designforall.
'The first hire at Instagram was a person dedicated to cultivating community and inclusivity,' says Kristen Joy Watts, creative lead at @design (opens in new tab) at Instagram. 'The @instagram account (which now has over 300 million followers) is a platform dedicated to shining a spotlight on underrepresented creative people from around the world.' With this ethos, the installation in the Design Miami (opens in new tab)/ tent on Meridian Avenue steered the algorithm towards health, science, computing and illustration with four projects curated by Fabienne Stephan.
'We wanted to use this moment to shine a spotlight on designers who are trailblazers and whose vision for the future is fearless, inclusive, sustainable and truly designed for all,' says Watts of Instagram's choice of studios, one of which is Studio Swine (@sudio_swine (opens in new tab)) that realised a bubble-shaped structure under which the four projects will live. 'It is like tailoring a pair of gloves' Alexander Groves, one half of duo Studio Swine said on opening day of Design Miami (opens in new tab).
Using its 'leave no trace' approach, Studio Swine's 100 per cent recyclable PVC space was an immersive treat for happy snappers, with a nifty filter too – 'the inflatables are translucent which allows viewers to see though the whole booth as if looking through a foam of soap bubbles,' says Groves and studio co-founder Azusa Murakami. 'This allows visitors to see the intriguing shapes of the design objects inside and also to create a photo opportunity for themselves within the installation.' Lightweight for lower CO2 emission for travel, the model will float to the Instagram office in the Bay Area after the December show.
Transforming prosthetics from medical aid to fashion expression, Canada-based ALLELES Design Studio showcased two of its prosthetic covers – colourful and artistic cases that remove the stigma of the device and are designed to be seen – 'we're artists, not prosthetists,' reads the ALLELES tagline. Also reimagining healthcare wares is San Francisco-based Yona Care which has redesigned the speculum and pelvic exam experience. On the @design handle's Stories, the founders, designer Rachel Hobart and mechanical engineer Fran Wang, take the viewer through the creative process including mood boards, research and prototypes – innovations that will be presented in 3D at Design Miami (opens in new tab).
Reshaping our relationship with tech and computing is Kano with its system built with Map Project Office – a computer that we can build ourselves. With the motto 'make your own technology. Create, don't just consume,' Kano encourages us break the barriers between humans and computers through accessible education on coding and simple steps towards building computer technology.
The power of illustration came to life through work by Irish artist Deva Pardue from her design initiative For All Womankind that supports organisations working to advance women's rights. The New York-based creative director of The Wing championed female empowerment in 2016 with a simple yet effective graphic campaign that will be on view – a fine example of the impact of Internet sharing for positive change and fundraising.
Whether you were a collectible design enthusiast or avid Instagram scroller, the underpinned message that Instagram uploaded with its Design Miami (opens in new tab) display lasts beyond the festival. 'Bubbles are transparent, accessible, fragile and protective,' muses Murakami and Groves. 'All qualities that speak of the #designforall selection which are special designs of their time; born out of need but also requiring the platform Instagram and Design Miami (opens in new tab) provide to make them prosper and not disappear into a great missed opportunity for a better world.' §