Inside the home of Denver's most important mid-century-loving couple
As originally featured in the September 2010 issue of Wallpaper* (W*138)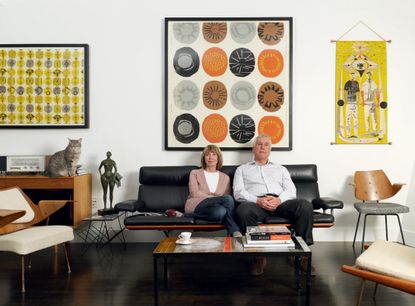 (Image credit: Joe Fletcher)
Wallpaper* Newsletter
Receive our daily digest of inspiration, escapism and design stories from around the world direct to your inbox
Thank you for signing up to Wallpaper. You will receive a verification email shortly.
There was a problem. Please refresh the page and try again.
It's something of a surprise to learn that the biggest collection of work by British modernists Robin and Lucienne Day is owned by Americans. Surprising, because the Days never achieved the worldwide recognition that Charles and Ray Eames (to whom they are often compared) did. Even among Britons, they have a cult following rather than mainstream appeal. So why is it that so much of their work has ended up Stateside?

It's down to Colorado couple H Kirk Brown III and his wife Jill A Wiltse, who began collecting Robin's furniture and Lucienne's textiles (128 pieces and counting) in 2003. 'I first came across the Days in 1997 in a catalogue published by London's Fine Art Society and Target Gallery,' says Brown. 'I fell in love with British modernism and began building a collection with the aid of both galleries.' Wiltse, an entrepreneur like her husband (she set up a poop-a-scoop business, he owns oil wells), majored in fine art. When they married, their passion for collecting took off. Today they own more pieces by the Days than London's V&A museum does. Annamarie Stapleton, a director at the Fine Art Society, says 'Nobody has such a depth and breadth of material and in such good condition as Kirk and Jill.'
When, in 2006, the couple snapped up an apartment in a new block adjacent to the Denver Art Museum extension, both of which were designed by Daniel Libeskind, they realised they had found the perfect home for part of their vast collection. Their retro textiles, Bauhaus furniture and mid-century tableware sit comfortably in Libeskind's challenging spaces, and the couple rotate them regularly. The contents of the apartment read like a Who's Who of the best designers of the 1960s: the Eameses, Ernest Race, Roger Capron and Herbert Bayer. The pieces were bought at auctions or through galleries, and the couple talk like biographers when they speak about the designers they collect.

In Alice in Wonderland fashion, you can walk through the 1960s-inspired interior into the apartment next door, which they also own and have filled with Hungarian art from 1890-1956. 'Kirk has always had the collector's instinct,' says Wiltse. 'When I first met him, I found all these stickers inside cupboard doors, peeled off the fruits he had bought at New York's Greek market.' Brown interjects: 'I had, at the time, also started collecting prints by Robert Motherwell and posters by artists involved in Roosevelt's post-war Federal Arts Projects.'
Unlike many collectors, who prefer to operate in the shadows, Brown and Wiltse actively seek to put as much of their collection before the public as possible, while living with it on a day-to-day basis. When not on display, works are stored in one of their 14 climate-controlled storage units in Denver that total 3,000 sq ft. 'These are already full. We need to get some more,' says Brown. One day, they hope to bring all their treasures under one roof and open a gallery in the huge modernist house they also own in Denver.

We meet at the Textile Museum in Washington DC, for the opening of 'Art by the Yard – Women Design Mid-Century Britain', a show that only happened because of their efforts and which features works by Jacqueline Groag, Marion Mahler and Lucienne Day, all loaned from their collection. In their orbit are dealers and curators, architects, academics and film directors; all praise their enthusiasm and approachability. As their collection grows, so does their presence on various boards, such as those of the Museum of California Design and the American Hungarian Foundation.
Like all design party faithfuls, they attend Palm Springs' Modernism Week. It was there, two years ago, that they had an epiphany. 'Many of the architects and designers involved are getting on in years and we thought that we might want to memorialise them on film while they are still alive,' says Wiltse. So they set up Design Onscreen, a production company that makes documentaries on the design world's great and good. So far, they have funded films on US architects William Krisel and Donald Wexler, and Dutch designer Hella Jongerius.

'We hope to build a portfolio of films and approach foundations for fundraising,' says Brown, who at present pays for all Design Onscreen's productions. 'There are 90 names on our films-to-be-made list,' adds Wiltse. Meanwhile, interest in the Days' work is likely to rise even further this year, thanks largely to Brown and Wiltse, who are lending their collection to an exhibition that will tour the UK.
INFORMATION
Receive our daily digest of inspiration, escapism and design stories from around the world direct to your inbox
Emma O'Kelly is a contributing editor at Wallpaper*. She joined the magazine on issue 4 as news editor and since since then has worked in full and part time roles across many editorial departments. She is a freelance journalist based in London and works for a range of titles from Condé Nast Traveller to The Telegraph. She is currently working on a book about Scandinavian sauna culture and is renovating a mid century house in the Italian Lakes.