In memoriam: Sir Terence Conran (1931-2020)
Sir Terence Conran will be remembered for countless commercial achievements, but most impressively of all, for possessing a clear and compelling vision for the future of design, retail and hospitality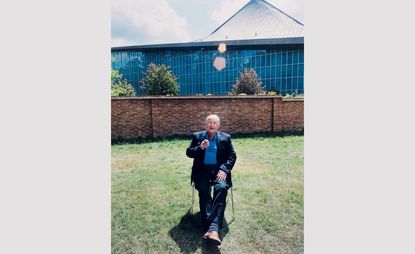 (Image credit: TBC)
Few designers have had as profound and far-reaching an effect on the lives of their compatriots as Sir Terence Conran, who has died, aged 88. Designer, restaurateur, retailer and serial entrepreneur – Conran influenced the way an entire generation furnished their homes, dined out and thought about design.

As the founder of Habitat, Conran presented chic contemporary design to a young, middle class audience for whom it had previously been unattainable. He was the driving force behind the founding of the Design Museum and co-owner of many of London's most influential and zeitgeisty restaurants. He co-founded Conrad Octopus, the publishing house behind countless design tomes, and Benchmark Furniture, which he set up in 1983 with Sean Sutcliffe. His more recent ventures include the hotel, restaurant, café, bakery and grocery shop The Boundary in London's Shoreditch.

Conran was born in Esher in 1931, the son of a South African-born businessman who owned a rubber importation company in east London. He was educated at Bryanston School and then the Central School of Art and Design (now incorporated into Central Saint Martins), where he studied textiles and design. While still a student he established a furniture studio, sharing the space with one of his professors, artist Eduardo Paolozzi. Conran left Central School of Art and Design to work for architect Dennis Lennon, helping to create some of the attractions for the 1951 Festival of Britain. The following year, he set up on his own, opening a furniture workshop – Conran and Company – in London's Notting Hill. An extended stay in Paris during the same period inspired in him a lifelong love of French culture and cuisine. In 1953, together with friends, he opened a Continental-style bistro, The Soup Kitchen, which boasted Britain's second-ever Gaggia coffee machine.

Conran and Company, meanwhile, continued to thrive. Never one to rest on his laurels, in 1956 the fledgling entrepreneur incorporated it into his newly formed Conran Design Group, which specialized in the design of interiors and retail spaces. One of its earliest commissions was Mary Quant's Markham Square shop on London's King's Road, which had a plaque that read: 'Contract by Conran, Pizzazz by Quant'.

Of all Conran's legion business ventures, the creation in 1964 of Habitat – born of his frustration at not being able to sell his Summa range of flatpack furniture in traditional department stores – is perhaps the most significant. Habitat wasn't just a shop, it was a way of life, a note-perfect homeware emporium for the nascent Swinging London. Expanding from a single site in the Fulham Road into a national, and then international, chain, it helped drag Britain out of the gloom of postwar austerity into a bold, bright, confident future, inspired in equal parts by modernism and Continental savoir vivre. It democratized design in Britain – more than two decades before the arrival of Ikea – demonstrating that simple, utilitarian forms could nonetheless be fun and glamorous.

Much of what Habitat sold was designed in-house, but Conran's skill lay also in curating and sourcing products that suited his philosophy and aesthetic – essentially Bauhaus reimagined for young, optimistic customers. And Habitat wasn't simply about furnishing your living space, it was also about equipping it with garlic presses, fondue sets, Le Creuset casserole dishes and duvets – items that seemed wondrously exotic to the British public at the time.

Building on the success of Habitat, which at its peak in the early 1980s had 53 outlets globally, Conran embarked on a phase of massive retail expansion. His Storehouse Group acquired high street retailers like Heals, Mothercare and British Home Stores and grew to become a sprawling FTSE 100 company. The dream would end acrimoniously with Conran being ousted as CEO in 1988 and stepping down from his chairman position in 1990, but he maintained his involvement in retail with The Conran Shop, which became a benchmark for chic modern home style with branches in the UK, France, Japan and the US.
RELATED STORY
Throughout this period, Conran had remained an influential figure in interior design, architecture and planning, setting up Conran Roche with architect Fred Roche in 1980. Their work together included the refurbishment of Michelin House, which became the iconic restaurant Bibendum, and Chelsea's Bluebird Garage.

As he famously commented, 'Furniture and food are ways that people define their attitude toward life. They'll buy better stuff if it's offered to them.' And while he was busy redefining the way we live domestically, Conran was also becoming one of the nation's most successful restaurateurs. During the 1980s and '90s, he established the template for slick, buzzy restaurants – glamorous venues to see and be seen in. Though he eventually stepped back from the business in 2006, the list of restaurants he opened, from Le Pont de la Tour and Bibendum to Quaglino's and Mezzo, reads like a timeline of London culinary cool.

Conran was also instrumental in establishing the Design Museum in London, negotiating an agreement with the Victoria and Albert Museum to establish a design-focused space called the Boilerhouse Project in the museum's basement in 1982. This evolved into the Design Museum, which took up residence in a converted banana warehouse in Shad Thames in 1989 before moving to the former Commonwealth Institute in Kensington in 2016.

Conran's written contribution over the seven decades of his career is also worthy of note. He was the author of over 50 highly influential books on design, home and food. Most of these were published by Conran Octopus, the illustrated-book publisher he founded with Paul Hamlyn.

Married four times – he tied the knot with his fourth wife Victoria Davis in 2000 – Conran is survived by his five children: fashion designer Jasper, designers Sebastian and Sophie, and restaurateurs Tom and Edmund. He was knighted in 1983 and appointed Member of the Order of the Companions of Honour in the 2017 Birthday Honours for services to design.

Still working right to the end, Sir Terence Conran will be remembered for countless commercial achievements, but most impressively of all, for possessing a clear and compelling vision for the future of design, retail and hospitality – and the strength of character to make his vision a reality. For as he once declared, 'The designer's job is to imagine the world not how it is, but how it should be.'