Floral fantasy: Lee Broom opens his 'Flower Shop' at the London Design Festival
Designer Lee Broom transforms his Shoreditch store into a contemporary flower shop for the London Design Festival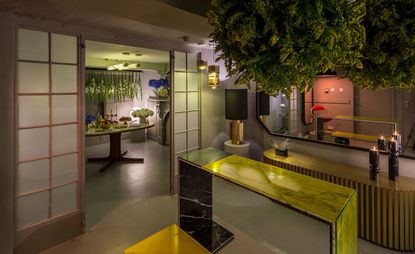 (Image credit: Luke Hayes)
British designer Lee Broom never does things by halves. His concept for 'The Department Store' in Milan this year – transforming a full street of disused shops – showed a unique creativity and his most recent venture, 'The Flower Shop', is no different. Opened as part of this year's London Design Festival, Broom has transformed his East London space into an embellished floral emporium to celebrate the release of his newest vase collection, 'Podium'.

'The Flower Shop' is no ordinary blossoming display. Broom provided us with a magical experience in his design cave, accompanying the 4000 flowers with grand orchestral music and a flower kitchen. What makes this feat more impressive is that it was solely the work of Broom and his team, taking four weeks of flower testing and display training. From the long stemmed gladioli hanging from the ceiling to the small, sharply coloured hydrangeas and delphiniums embedded into wall boxes, the decoration acted as an imposing backdrop for Broom's eclectic collections.

In addition to the display, there was a kitchen area downstairs, serving up edible flower treats by Pip McCormac, including recipes with black and white chia flower taken from his book The Herb & Flower Cookbook. To top it off, Broom was approached by 'Bloom' London dry gin to get involved, so even our drinks had a floral touch.

So as to not overlook the reason for the parade, Broom's new collection was proudly parked up in the front of the store, adopting a certain sense of playfulness (much like the flower abstraction itself). The pieces can be mixed and matched, with white carrara or black marquina for the pots, and different shapes via oval and cylinder glass vases. Then, of course, there's the final component: the choice of which flora should adorn them.
INFORMATION
'The Flower Shop' is open until 27 September
Photography: Luke Hayes
ADDRESS
Lee Broom
Electra House
95 Rivington Street
London, EC2A 3AY