Design Museum asks, 'What does domestic design's past tell us about the future?'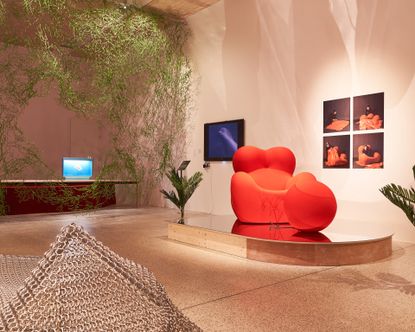 (Image credit: TBC)
What has the past got to tell us about the future? That's the question posed by the Design Museum's upcoming show: 'Home Futures'.

Curator Eszter Steierhoffer puts 20th century prototypes up against the latest innovations in domestic living, allowing visitors to wonder whether yesterday's fantasies have become today's reality (and which version of the future is better looking).

'It became clear that a lot of the topics we're dealing with today – lack of space in big urban centres, nomadic behaviours, tech in home, sustainability and self-sufficiency – are issues that were present throughout the 20th century,' says Steierhoffer.
Steierhoffer's jumping off point was MoMA's 1972 show, 'Italy: The New Domestic Landscape'. 'In the 20th century, there was a special relationship with the future,' she adds, 'the future became the point of reference to determine the present.'
There are more than 150 objects and 'experiences' on display, including original furniture from the Smithsons' 1956 House of the Future; original footage from the General Motors' Kitchen of Tomorrow of the same year; and two delights from 1972: Ettore Sottsass' Home Environment, and an original model of Joe Colombo's Total Furnishing Unit.

And were these creatives' vision of the future better looking than today's efforts? That, says Steierhoffer, is very subjective. '21st century ideas look very different from an aesthetic point of view, and less futuristic. The most futuristic idea of the smart home today has midcentury furniture in it.'

New York-based architect SO-IL was tasked with creating an exhibition design that will display domestic behaviour in a museum context. Their solution: a number of areas zoned with semi-transparent mesh. Meanwhile, the graphics and catalogue are the work of London graphic design practice John Morgan Studio.

Come spring 2019, the show – which was organised in partnership with the IKEA Museum – will relocate to Älmhult, Sweden.
INFORMATION
'Home Futures' is on view 7 November 2018 – 24 March 2019. For more information, visit the Design Museum website (opens in new tab)
ADDRESS
224-238 Kensington High Street
Kensington
London
W8 6AG