Palazzo pretty: Danish design studio Frama exhibits its first artist in residence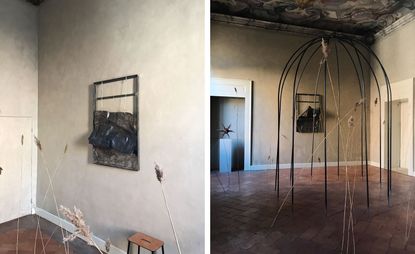 (Image credit: press)
Wallpaper* Newsletter
Receive our daily digest of inspiration, escapism and design stories from around the world direct to your inbox
Thank you for signing up to Wallpaper. You will receive a verification email shortly.
There was a problem. Please refresh the page and try again.
They appear, initially, at visual odds: a 13th-century Italian palazzo coated in trompe l'oeil frescoes and a contemporary Danish designer of austere, utilitarian furniture. But each shares an appreciation for the other's point of view – classical, analogue approaches to design versus the embrace of contemporary aesthetics. And as with many marriages of opposites, they create a harmonious whole.
When Frama, the back-to-basics Copenhagen-based manufacturer launched its first artist-in-residence programme, it chose as its 'incubator' the historic Palazzo Monti as an ornate counterpoint to the task at hand. Located in the city of Brescia, halfway between Milan and Verona, the Baroque villa would capture the imagination of a new generation of artists and create a dialogue between the past, present and future. 'The palazzo is richly detailed and has grand rooms,' says Frama founder Niels Stroyer Christophersen, 'but its current facilities are very spartan, with only the most essential functions, such as basic bathrooms with naked-bulb lighting. For us, this combined with a low-tech kitchen is something that doesn't interfere with creative thoughts.'
Danish artist Leonardo Anker Vandal is the inaugural resident of this new generation. And true to the mission, he's unveiled nearly 20 pieces of art and design inspired by northern Italy, and the mystery, wonder and melancholy of traditional beauty. He's called the exhibition 'Negative Capability', 'a term,' he says, 'to describe beauty as a perception, experienced through the emotions and senses.'
His installations, paintings, sculptures and photographs bring iron, canvas, wood and glass to the marble and plaster of the villa. A smoked mirror set in an iron disc and encased in antique handmade Barbini Murano glass evokes Saturn – 'the planet of melancholy' – and its rings. It's joined by iron-framed faux windows, mounted to the wall and 'shaded' with canvas and lead-coated twill. A ten-metre length of natural silk hangs from the ceiling like a hammock, holding an acid-treated iron sphere that weighs it down into the shape of a teardrop. The accompanying text quotes Rimbaud: 'In hour of bitterness I imagine sapphire balls and metal balls, I'm the lord of silence.''
In a room whose ceiling is fresco'd to within an inch of its life, Vandal has installed a great iron arbor in the shape of a metal birdcage – part of a 'secret garden' adorned with real reeds. And in the next he's placed two acid-treated wire cabinets, one filled with hand-written love letters, the other with a single black bird's feather threaded through the wire.
The colouring is appropriately neutral and spare, embracing the natural copper and bleached-wood tones favoured by Frama and the marble, ivory and terracottas used by the classical Italians. Aesthetically it is a genre of itself.
INFORMATION
'Negative Capability' runs until 1 August, 2017. For more information visit the Frama website
ADDRESS
Palazzo Monti
Piazza Tebaldo Brusato, 22
25121
Brescia BS, Italy
Receive our daily digest of inspiration, escapism and design stories from around the world direct to your inbox