Inside Margate's Fort Road Hotel: modern comfort meets heritage appeal
Across the road from Turner Contemporary, Fort Road Hotel is Margate's most anticipated opening, the result of a collaboration between Frieze co-founder Matthew Slotover, developer Gabriel Chipperfield and artist Tom Gidley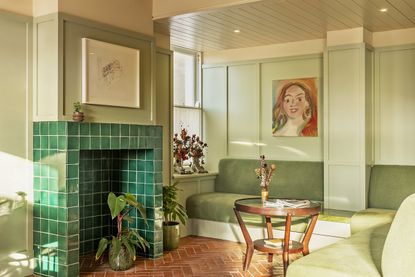 (Image credit: Ed Reeve)
Inside the new Fort Road Hotel, you'll find a glimpse of old Margate. A collection of framed sepia-toned photos of patrons along the main sands of this British seaside destination's founding days decorate the bright terracotta-painted corridors. It is a fascinating look at how far the town has come and a precious reminder of its long-standing history. Initially built as a boarding house in 1820, the hotel rests inside one of Old Town's original façades. Located atop the hill, across from the Turner Contemporary gallery, Fort Road Hotel is a revitalised piece of Margate's history.
Fort Road Hotel: a transformed piece of Margate history
Led by longtime collaborators Matthew Slotover, co-founder of Frieze magazine and fairs, developer Gabriel Chipperfield, and artist Tom Gidley, the 14-room hotel is the culmination of Margate's cultural offerings. Purchased at auction in 2018, the formerly abandoned structure has been transformed to reflect modern comforts while maintaining its heritage appeal.
Having passed by the building during construction many times, seeing it from such an advanced state of decay to its restored condition is a wonderment. In 2019, Fleet Architects began the construction of an extension and refurbishment of the building, adding a fourth floor to the property. The spacious top-floor suite and rooftop terrace offer panoramic views overlooking the shoreline, from Dreamland amusement park to the Turner.
Each room features a variety of midcentury furniture pieces, a built-in wardrobe, a bar of inlaid stone, and stained wood. The best features, however, are found in the bathroom. Each bathroom is designed with brilliant handmade Mexican tiles, solid wood panelling, and a classic hanging bathtub faucet. The toiletries are stocked by local favourite, Margate-based Haeckels skincare, whose sustainable ethos and thalassotherapy lines are the perfect fit.
Not often do photos fail to capture hotels these days, but at Fort Road, the pleasing texture of all its finishes is almost lost in digital translation. In person, it's easier to appreciate the Kvadrat linen curtains, crown mouldings, and herringbone marble floor and notice the small details like the smooth custom dark oak radiator handles.
Art, design and gastronomy
Back on the ground floor, the casual hotel reception feels like a familiar sitting room. On the pistachio-coloured walls, you can admire The Golden Mile above the fireplace, a 2012 etching by artist Tracey Emin of her hometown of Margate. Other prominent local artists such as Lindsey Mendick were also tapped by Gidley to adorn the hotel. The collection of 20th-century abstract and figurative works includes a range of mediums, from oil painting, gouaches, and watercolours to prints and ceramics. On this level, the 35-cover restaurant is dedicated to providing seasonal home-cooked meals using local ingredients from Kent, the 'Garden of England'. The room's inviting atmosphere features a mixture of a wood-panelled and slatted beam ceiling, early 20th-century Thonet chairs, and rustic wood tables with hanging pendant lanterns.
Head chef Daisy Cecil will collaborate with restaurant consultant Gioconda Scott on a selection of Andalusian-inspired dishes reminiscent of Gioconda's childhood. The seasonal menu will also feature dishes inspired by some of the influential women food writers of the 19th and 20th centuries, like Elizabeth David, Isabella Beeton, and Jane Grigson. The restaurant is also dedicated to providing the community with a variety of cultural food experiences through events and workshops where local foragers, producers, and diners can come together.
In the stairway, the site-specific mural by Sophie von Hellermann leads you to the subterranean mezzanine 60-cover bar. The cavernous double-height, duel-level room is already being frequented by the town's local artist crowd. Following the concept found in the rooms and ground-floor restaurant, the subterranean bar is clad in handmade Mexican tiles, and original artworks. Another standout piece by Tracey Emin, a neon sign in her handwriting that reads 'More Love', crowns the archway vault, bookable for special occasions. The goal of the cocktail list here is to celebrate the classic British spirit; gin infused with local fruits, and the addition of elements such as rosemary, sea vegetables, and foraged fruits again highlight the local area.
It's suggested that Fort Road Hotel may be one of the last remaining establishments in town that JMW Turner would still recognise today. While it's impossible to say for sure, staying at Fort Road Hotel makes it easy to feel connected to the town he once loved so much.
INFORMATION
Receive our daily digest of inspiration, escapism and design stories from around the world direct to your inbox