Full circuit: Flos and Astep turn the lights back on for Gino Sarfatti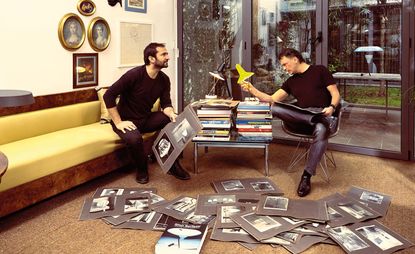 (Image credit: Alberto Zanetti)
Alessandro Sarfatti is a third-generation lighting luminary on a mission to amplify his grandfather's impressive archive of 20th-century lighting designs. Gino Sarfatti, one of the live wires of midcentury Italian illumination, was until recently largely unknown outside a select group of enthusiasts and collectors. But visitors to Euroluce, Salone del Mobile's biannual lighting extravaganza, will be greeted by 'Flos with Sarfatti', a collaboration between Alessandro's lighting brand, Astep, and inventive Italian stalwart Flos. Six reissued Gino designs will be displayed proudly between the stands of both companies.

The coming together of these two family businesses, each with a long and complex history, follows a resurgence of interest in Gino's work since a 2012 retrospective at the Triennale Design Museum in Milan. The success of the exhibition encouraged Flos to dust off the drawings and reissue five of Gino's designs in 2013, staying true to the originals but integrating the latest LED technology.

Numbered rather than named, each Gino Sarfatti light couples functional proficiency with honesty in construction and material composition. In the case of Model 1095 (1968), an exposed light bulb tops a tubular aluminium stem, supported by what looks like an oversized jar. The iconic Model 548 (1951) is a stemmounted spotlight that beams light into an upturned and brightly coloured methacrylate dish, which acts as a diffuser. Without wishing to oversimplify the results, there is an 'A+B=C' kind of approach in Gino's designs. Models 1063, 2065, 2129 and the newly reissued 545 complete the 'Flos with Sarfatti' collection, brought entirely up to date by the latest production techniques and technologies.
The Sarfatti-Flos relationship dates back to 1973, when Flos acquired Gino's Arteluce business ahead of his retirement – and with it a rich archive of designs created from 1939-73. But when Piero Gandini replaced his father, Sergio, as CEO of Flos in 1996, he closed the Arteluce brand. 'Arteluce at that time was not reflecting or respecting the history that Gino Sarfatti developed,' says Gandini. 'I decided to close it because that brand was running totally different products to the Flos brand. We focused on developing Flos into the company it is today, but the Arteluce brand and the Gino Sarfatti name were somehow forgotten.'

That focus has paid off. Over the past two decades, Gandini has taken Flos from strength to strength by adding new divisions and internationalising the brand. In 2014, an 80 per cent stake was sold to Italian private equity firm Investindustrial. Producing bestselling lighting pieces by celebrated design talents such as Jasper Morrison, Philippe Starck, Patricia Urquiola and the late Achille and Pier Giacomo Castiglioni, Flos is a heavyweight in the industry and the natural flag-bearer for the Sarfatti name.

After the sale of Arteluce, the Sarfatti family continued to produce beautiful and innovative lighting. In 1978, having worked for a few years at Flos with Sergio Gandini, Riccardo Sarfatti, Gino's son and Alessandro's father, launched the Luceplan brand. Together with his wife, Sandra Severi, and prolific designer Paolo Rizzatto, Riccardo worked with some of the finest specialist industrial craftsmen on an extensive collection of lights.

Straight from his studies in economic sciences, Alessandro joined his parents' business in 1996; he took the helm as CEO in 2005. His skills in product development stood him in good stead when he eventually left Luceplan, which by then had been sold to Philips. He moved to Copenhagen with his Danish wife in 2013, and established Astep with interaction designer and technologist Nicholas Zambetti in 2014. 'I looked closely at the work of my grandfather, always admiring him and trying to study him from a human and psychological point of view, because I think the guy was quite complex,' says Alessandro. 'He had such a vivid and fertile imagination. He worked during the rebirth of Italy after the war, and the industrial and artisanal capacity was incredible. My father used to say to me, "We must work in all directions and in each one find a small amount of innovation." At the roots of my company Astep, I try to always take these kinds of steps forward like my forebears.'

Piero Gandini's collaboration with Alessandro's nimble start-up reinforces the strong historic ties between the two families, originally formed long before Gandini or Alessandro could have predicted where that relationship might take them. 'I like the fact that Flos goes on today with the Gino Sarfatti adventure that began together in the 1970s, and now continues with Gino's grandson,' says Gandini.

'I considered how much I'm central to the legacy and to the history of my family and how much the past is connected to the future,' Alessandro adds. 'We have joined forces in reviving and making an edit of some of the Gino Sarfatti masterpieces that over the years have escaped attention, but now seem more relevant and essential than ever.' And with more than 600 designs left in the archive, this collaboration has the legs to continue long into the future.

INFORMATION
For more information, visit the Flos website (opens in new tab) and the Astep website (opens in new tab)