In memoriam: Florence Knoll Bassett 1917-2019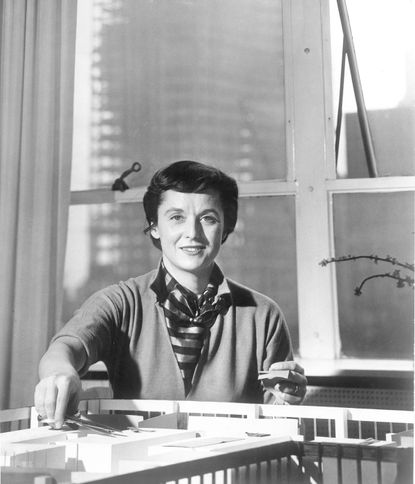 (Image credit: Press)
Florence Knoll Bassett, the female pioneer of midcentury modern American design, has died aged 101. She passed away on 25 January in Coral Gables, Florida.
The creative force behind one of the most influential design brands of the 20th century was born in 1917 and grew up in Michigan as an orphan from the age of 12. It was an early friendship with Finnish architects, Eliel and Eero Saarinen and a firm interest in architecture from a young age that led her to enrol at Cranbrook Academy of Art where her most important design education – from the likes of Harry Bertoia took place.
After this, Knoll (then Schust) went on to learn from the great 20th-century modernist masters of design. She discovered furniture making with Eero Saarinen and Charles Eames, and after a two-year stint at London's Architectural Association returned to America where she apprenticed for Bauhaus founders Walter Gropius and Marcel Breuer in Boston. Her formal education concluded studying under Ludwig Mies van der Rohe at the Illinois Institute of Technology in Chicago. In 1941, the ambitious young graduate headed to New York.

At this point Florence met Hans Knoll, who was at the time spearheading a new furniture company. She convinced him to let her join the firm. While he was the business brain, Florence bought her fierce design and architectural education to the brand. The pair married in 1946 and together grew the brand into a global design powerhouse. In creating the Knoll Planning Unit, Florence sowed the seeds for a revolution in the design of corporate interiors in postwar America and beyond, introducing open-plan layouts, sleek functional furniture and colourful, acoustic textiles.
In addition to commissions from her close friends, Bertoia, Mies, and Saarinen, Florence also designed for the brand. Standouts include her geometric and modern 45" x 22" coffee table, which is built following her rational design ethos, and her midcentury modern lounge chair and sofa from 1954. Although these were groundbreaking designs, Florence was quite self-deprecating, referring to her furniture designs as the 'meat and potatoes' filler among the standout pieces by her male counterparts, Bertoia, Mies, and Saarinen.
Hers was a Bauhaus-inspired, 'total design' approach creating furniture that fitted the architecture. She said: 'I designed the architectural [elements] that were needed to make the room work, things like the walls, [tables] and sofas'. Aside from her product design, Florence's reputation was boosted via her interior projects for the corporate offices of US giants IBM, GM and CBS. Her workspace designs were a further evolution of her architectural approach. 'Everything I did was based on my architecture studies,' she said.

Her contribution to American modernism is varied and far-reaching. She became known as the 'eye of Knoll' and was promoted to president of the company in the wake of Hans' death in 1955. She remained in the role until 1960, and after stepping down became design director for a further five years, before retiring from the company. Her most recent feat, at the extraordinary age of 87, was an exhibition of her work at the Philadelphia Museum. She stepped up to fully execute the commission in true Knoll fashion for the resulting 2004 presentation: 'Florence Knoll Bassett: Defining Modern'. Her remarkable legacy will undoubtedly extend far beyond the century that her designs came to define.