Es Devlin and Google bring live poetry to Trafalgar Square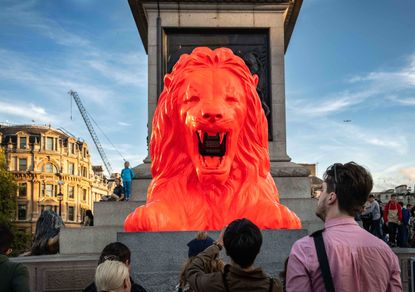 (Image credit: TBC)
Set designer Es Devlin is collaborating with Google Arts & Culture and The Space on a unique London Design Festival project that sees history, digital design and public art merge in Trafalgar Square.
Winner of the Panerai London Design Medal at the British Land Celebration of Design Awards last year, Devlin impressed audiences then with an alluring V&A Museum mixed-media installation that recreated her lakeside stage set for the Bregenz Festival's production of Carmen. This year, the Peckham-based designer heads outside for her London Design Festival pursuit with an interactive experience.

A newly formed lion appears in Trafalgar Square, glowing in fluorescent red light it stands out much more than the other four stone sculptures that were cast in 1867 at the base of Nelson's Column. Devlin's lion is no silent statue but instead roars with words that the public can 'feed' it, alluding to the sculpture's title Please Feed The Lions.
It was during a walk around Trafalgar Square with Sir John Sorrell that prompted the idea; she recalls him musing to her about the historic statues, 'Landseer never wanted those lions to look so passive: he proposed a much more animated stance, but Queen Victoria found it too shocking.' This led Devlin to ask the question, 'what if we could invest the lion with a diversely crowd-sourced collective poetic voice?'
During the day the messages are projected on an LED display in the lion's mouth, while at night, Nelson's Column proudly displays these words. Over the past year, Devlin has worked with Google's Machine Learning to bring this experience to life, and with the help of commissioning and development agency The Space, Please Feed The Lions will be broadcast online across the globe.

'We're delighted to be able to support Es's exploration of Machine Learning in her work and be part of her public artwork for London Design Festival,' says Freya Murray, programme manager for Google Arts & Culture. 'Machine Learning is helping to tackle some of the biggest challenges we face today, from healthcare to environmental conservation. This technology can also provide artists with a new set of tools. It's exciting to see Es Devlin collaborating with this to realise her vision for her first large-scale sculptural work.'
Read our Es Devlin profile here
INFORMATION
Please Feed The Lions will be on view 18-23 September during London Design Festival. For more information visit the website
ADDRESS
Trafalgar Square
London
WC2N 5DN